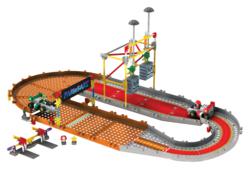 Hatfield, PA (PRWEB) May 19, 2011
K'NEX, the only US construction toy company focused on Building Worlds Kids Love™, is pleased to introduce its first line of officially licensed building sets inspired by Mario Kart™ Wii, one of the most popular titles for the Wii™ console. Young Nintendo® fans will soon be able to build and play with their favorite video game characters including Mario™, Luigi™ and Yoshi™.
The new products combine the award-winning K'NEX building system with beloved characters from Mario Kart™ Wii, bringing them from the video screen to the construction aisle for the first time.
The new K'NEX Nintendo line will be available at all major retailers in fall of 2011 and includes characters, buildable vehicles and obstacles from the Mario Kart Wii game. The building sets are designed for children ages 6+, bringing the fun Mario Kart Wii to a new generation and expanding its appeal through a rewarding, age-appropriate K'NEX building experience.
Mario, Yoshi, and Luigi Standard Kart Building Sets
Favorite characters race off the screen as kids build Mario, Luigi, or Yoshi in their Standard Karts from Mario Kart Wii. Once built, the kart's pull-back motor and accessories from the game, like a mushroom, add to the fun! Suggested retail price is $14.99 each.
Mario and Luigi Standard Bike Building Sets
Ride into the fast lane with Mario and Luigi Standard Bike Building Sets! Each 31 piece building set includes a Mario or Luigi figure and comes in a wedge-style package that doubles as a ramp. Suggested retail price is $7.99 each.
Mario and Luigi Starting Line Building Set
The excitement of Bowser's Castle track from Mario Kart Wii comes to life! Kids can build Mario and Luigi in their Sprinter Karts with super-fast battery powered motors. Collectible items such as a star and 16 pieces of interconnectable track make post-building play realistic and fun! Children can create cool track patterns and watch the characters race. Suggested retail price $59.99.
Mario vs. Thwomps and Mario vs. Goombas Building Sets
Mario can race, but can he survive the Thwomps and Goombas obstacles? Kids can find out by building Mario in his Wild Wing Kart with a moving Thwomps Obstacle or in his Standard Kart with a moving Goombas Obstacle. The fast battery powered motor, 2 collectible items and 6 pieces of interconnectable track ensure building and racing fun. Suggested retail price $29.99 each.
The new K'NEX Nintendo Building Sets will be available July 2011.
About K'NEX Brands
Founded in 1992, K'NEX Brands, the world's most innovative construction toy company, was established to make and sell what has become one of the world's leading integrated construction systems for children. Winner of over 200 international awards and recognitions, K'NEX is America's building toy company focused on Building Worlds Kids Love, and encourages youngsters to "imagine, build and play." Since 1992, The Rodon Group, a subsidiary of K'NEX Brands, L.P., has manufactured over 30 billion parts for the K'NEX building toy system. For more information, please visit http://www.knex.com or http://www.rodongroup.com.
# # #