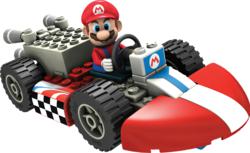 Since the moment we announced our partnership with Nintendo last summer we've heard from fans who were excited about these products
Hatfield, PA (Vocus/PRWEB) April 05, 2011
K'NEX, the US construction toy company focused on Building Worlds Kids Love™, is pleased to introduce the first of its highly anticipated building sets inspired by Nintendo's Mario Kart™ Wii. The sets featuring Mario™, Yoshi™ and Luigi™, and their bikes and Karts, are available now on http://www.knex.com.
"Since the moment we announced our partnership with Nintendo last summer we've heard from fans who were excited about these products," said K'NEX President and CEO Michael Araten, "so we're pleased to be able to offer them on knex.com and we look forward to feedback from our toughest critics – kids!"
The new products combine the award-winning K'NEX building system with Nintendo's beloved characters, bringing them from the video game to the construction aisle for the first time. The building sets are designed for children ages 6+ and include characters, buildable vehicles and collectible items from the Mario Kart Wii game. These products are the first in a complete line of Mario Kart Wii building toys, which will include a brand new buildable track system and buildable obstacles – kids will be able to recreate tracks similar to those found in the Mario Kart Wii game. The complete product line will be available at major retailers this fall.
About K'NEX Brands
Founded in 1992, K'NEX Brands, the world's most innovative construction toy company, was established to make and sell what has become one of the world's leading integrated construction systems for children. Winner of over 200 international awards and recognitions, K'NEX is America's building toy company focused on Building Worlds Kids Love, and encourages youngsters to "imagine, build and play." For more information, please visit http://www.knex.com.
###