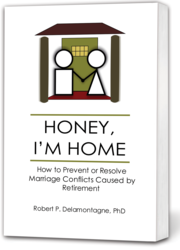 "Couples can avoid or work around differences when they spend work hours apart. But differences often flare when spouses suddenly spend all day every day together."
– Robert Delamontagne, PhD
Philadelphia, PA (Vocus/PRWEB) April 20, 2011
As Americans retire in record numbers, healthy bank accounts are vital to joy after the job – emotional bank accounts in marriage, that is. A bestselling author, leading psychologist and noted expert on the topic, Dr. Robert P. Delamontagne, PhD., recently published a detailed guide for couples entitled "Honey, I'm Home: How to Prevent or Resolve Marriage Conflicts Caused by Retirement."
This book, building off of Delamontagne's previous book, The Retiring Mind, is packed with techniques to resolve personality conflicts within your relationship and increase marital harmony during this significant life change. Readers sequentially work through the book's exercises, informative real-life examples and proven strategies.

Readers evaluate personality differences between spouses and how they can be a source of conflict.Delamontagne recommends specific actions to better understand and manage these differences.
Readers learn about challenges like "achievement addiction." "High-powered executives often derive a sense of self from accomplishments on the job," Delamontagne remarks. "When that reinforcement is gone, they're at a loss, asking, 'why do I feel so unhappy? This often results in painful marital strife. My book is designed to address this problem."
Delamontagne explains "marital compression" as a source of conflict. "Couples may have avoided their differences or not found them important to resolve when they spent most waking hours apart," he says. "Those differences flare suddenly when they're together most of the time. My techniques can restore the harmony that is often lost after retirement."
One particularly powerful exercise presents 25 sentence completions – each spouse answers queries like, "What I like best about you is..." The two share results: full sentences now revealing strong areas in the marriage and what has held the two together all these years. "This method banishes assumptions and reinforces the strengths that exist within the marriage," says the author.
Evidence abounds that retirement age couples need emotional guidance. The over-60 set is the only group in which divorce rates are rising. Further, experts estimate that one in two retirees will suffer some type of emotional distress within a year of leaving the job. Delamontagne says readers often confess to him the pain behind what most presume to be one of the happiest times of life. "One reader told me, 'my husband just retired and we have more tension than we've ever had in 30 years of marriage," he notes.
While nearly nine of 10 books on retirement focus on finances and the most popular tome urges seniors to let loose and enjoy themselves, Delamontagne shines a guiding light for troubled couples – and illuminates a method of preventing issues before they arise. "Nobody talks about the emotional distress because they're embarrassed," he says. "They're supposed to be effortlessly thrilled with the freedom and grateful they could retire when many can't. But the truth is that many suffer some level of anguish. Resolving conflicts before they become chronic is better than parting ways with your spouse as well as your job."
In interviews, Delamontagne discusses further aspects of this important topic:

Assessing the marriage's health before retirement
Common pitfalls that can lead to emotional distress
Avoiding rash life decisions during the transitional phase
Bringing more truth and authenticity to the relationship
Dealing with egocentric spousal habits
Finding sources of positive reinforcement that replace work
Dr. Robert P. Delamontagne, is the President of Fairview Imprints LLC and a leading expert on the psychological dynamics of retirement. He is the author of "The Retiring Mind: How to Make the Psychological Transition to Retirement", which is dedicated to helping retirees manage the negative psychological affects often encountered after retirement. He is the founder and past chairman of EduNeering, Inc. (now Kaplan EduNeering), one of the first online learning companies dedicated to serving the healthcare industry. He obtained a Ph.D in educational psychology from Georgia State University and currently lives in New Hope, Pennsylvania and Marco Island, Florida with his wife Sherrilyn. Visit http://www.theretiringmind.com for more information.
To schedule an interview with Delamontagne or receive a review copy of "Honey, I'm Home" and/or The Retiring Mind, please contact Joanne Esplin at (215) 801-7676.
###