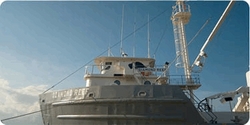 We selected Boatracs based on its superior record of product performance and reliability, and outstanding customer service and support
SAN DIEGO, CA (Vocus) July 1, 2010
Maritime technology firm Boatracs Inc., announced today that it has completed a fleet-wide satellite communications installation for Omega Protein, a leading commercial fishing and processing company. The installation consisted of implementing the Boatracs OmniVision satellite communications solution on Omega Protein's entire 42 vessel fishing fleet.
Boatracs CEO Irwin Rodrigues said his company believes it is essential to minimize disruptions to business operations during fleet installations of satellite communications and software. "The Boatracs OmniVision satellite communications solution continues in the tradition of our flagship Boatracs OmniTRACS solution by providing rapid installation, easy to use functionality, and fast time to value for our customers. We understand that any disruption during installation would cost our customers money. We work hard to ensure that our customers face little or no disruption during the implementation and are able to get value out of the solution instantaneously."
Omega Protein Senior Vice President of Operations Joseph Kadi said Boatracs' proven technology and industry experience were driving forces in selecting Boatracs to meet Omega Protein's business requirements and aggressive implementation schedule. "We selected Boatracs based on its superior record of product performance and reliability, and outstanding customer service and support," he said. "Boatracs was able to implement the solution very quickly, responding to our schedule and business needs every step of the way. We look forward to continuing to work with Boatracs to achieve significant operational efficiencies as we delve deeper into utilizing the system's full capabilities"
About BOATRACS®
Established in 1990, Boatracs is the leading provider of integrated communications and software solutions for the commercial maritime industry. Boatracs' core offerings are built on the QUALCOMM OmniTRACS® and QUALCOMM OmniVision™ satellite solutions, providing customers the industry's most proven, reliable, and simplest data communications solution on the market. With its products, services and 24/7/365 customer support, Boatracs increases the operating efficiencies of over 1,000 customers in the Inland Workboat, Offshore Supply Vessel, Commercial Fishing and Government Maritime markets. The company has offices in California and Louisiana, and can be reached via http://www.boatracs.com or at 1-877-468-8722.
About Omega Protein
Omega Protein Corporation is the nation's largest manufacturer of heart-healthy fish oils containing Omega-3 fatty acids for human consumption, as well as specialty fishmeals and fish oil used as value-added ingredients in aquaculture, swine and other livestock feeds. Omega Protein makes its products from menhaden, an Omega-3 rich fish that is not utilized as seafood, but which is abundantly available along the U.S. Gulf of Mexico and Atlantic Coasts.
Contact: Mike Harris, PR Consultant
Email: mike.harris(at)harconllc(dot)com
Contact: Irwin Rodrigues, CEO
Email: pr(at)boatracs(dot)com
Phone: 1-858-458-8100
###