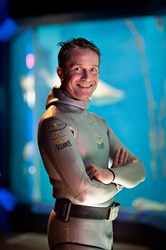 Norwalk, CT (PRWEB) January 30, 2014
This spring, Fabien Cousteau will try to do something that his famous grandfather never did: stay underwater for 31 straight days. Cousteau will preview this scientific adventure, and share other insights and experiences, in a special lecture on Thurs., Feb. 6 at The Maritime Aquarium at Norwalk.
The event offers the Aquarium audience the rare chance to share a spot of dry land with ocean-exploration royalty. Cousteau is a grandson of Jacques Cousteau, inventor of SCUBA and an inspiration to millions of ocean-lovers through his unique television shows of the 1960s & '70s, "The Undersea World of Jacques Cousteau." Fabien's father, Jean-Michel, also has investigated the world's oceans for much of his life.
"We're thrilled to be welcoming Fabien, who is carrying on the Cousteau family legacy as a third-generation ocean explorer and advocate for ocean conservation," said Jennifer Herring, president of The Maritime Aquarium. "We look forward to hearing his inspirational message, and to cheering him on in his next ambitious endeavor."
Growing up on the decks of his grandfather's research vessels, Calypso and Alcyone, Fabien Cousteau was destined to work to protect our planet's immense and endangered marine habitats.
This spring (on dates yet to be announced), Cousteau will lead an exploration named Mission 31 that will spend 31 days in Aquarius, the only undersea marine lab in the world. This expedition will break new ground in ocean exploration and also coincide with the 50th anniversary of his grandfather's 30-day experiment living in an underwater lab then beneath the Red Sea.
Aquarius, owned by NOAA and managed by Florida International University, is located in 63 feet of water in the Florida Keys National Marine Sanctuary, nine miles south of Key Largo. The lab will serve as base camp for Cousteau's team as they explore climate, pollution and overconsumption problems in the coral reefs outside Aquarius. The team members themselves will be part of the study, to look for any effects of long-term "saturation" diving.
Mission 31 will be broadcast on the Internet and through Skype in the Classroom, allowing the world to share in the adventure, risk and mystique of what lies beneath. Cousteau called the broadcast aspect "the most extensive far-reaching underwater classroom ever created."
From his vast experience in the field, coupled with a degree in environmental economics from Boston University, Fabien Cousteau has refined a public-policy platform grounded by his strong belief that environmental discipline can be the basis for innovative solutions that strike a balance between regional and global environmental problems and the realities of market economics.
Cousteau has worked with National Geographic, Discovery, PBS and CBS to produce ocean exploration documentaries. In 2006, he partnered with his father, Jean-Michel, and sister, Celine, for an ongoing multi-year series for PBS called "Ocean Adventures." In 2010, he launched Plant-A-Fish, an innovative nonprofit organization designed to empower communities and children to help restore their local water ecosystems through the healthy "replanting" of key marine species.
Cousteau shares his guidance as a member of multiple boards, including SeaKeepers Society, Water Innovation Alliance, Millennium Project, Blue Ocean Film Festival and One World One Ocean.
Tickets for Fabien Cousteau's talk at The Maritime Aquarium are $30 ($25 for members).
The event is part of a series of 2013-14 lectures scheduled at The Maritime Aquarium. Moffly Media is media sponsor of the series, which also includes:

Environmentalist Dr. Daniel Botkin on Mon., March 10.
Sharon, CT, dentist Dr. Martin Nweeia, an expert on the mysteries of the narwhal, on Mon., April 7.
Celebrated zookeeper/TV host Jack Hanna for two shows on Tues., May 7.
and Weston, CT, author Richard Hyman, who will talk about his expeditions aboard Jacques Cousteau's Calypso, on Mon., June 23.
To reserve tickets or for more details about the Cousteau lecture or others in the series, call (203) 852-0700 or go to http://www.maritimeaquarium.org.