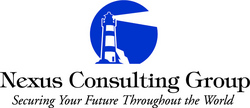 There is no need to look beyond the borders of the United States for its protection on land or at sea; Nexus Consulting can provide the protection needed to deter piracy with US citizens who are specially trained to ensure that full compliance is achieved within US maritime laws
Alexandria, Virginia (PRWEB) June 4, 2009
Nexus Consulting Group of Alexandria, LLC, a private maritime security firm, today announced that its armed security teams are aboard US flagged vessels and are proving an effective deterrent against Somali pirates operating in the Gulf of Aden.
During a special session of the House Foreign Affairs Oversight Subcommittee held at Massachusetts Maritime Academy last week, President and CEO Kevin Doherty testified that he just returned from a 10-day trip to Somalia with a Nexus team aboard a US flagged vessel and that seven known pirate attacks occurred in the Gulf during the ship's passage. He continued that four of the incidents involved rocket propelled grenades (RPG), and that "the threats are real … and so far we have not been forced to fire any rounds," Doherty stated.
Threats of piracy have increased since the attack on the Maersk Alabama in March, and the tactics used by the pirates now include the use of RPGs.
Operating and supported by sound legal analysis of US laws and regulations pertaining to maritime security details aboard US flagged vessels, Nexus has taken the lead in providing personnel to combat these particular weapons.
Nexus team members have been trained by elite divisions of the American military and federal government as mission critical special operatives. They are former Navy Seals, former Marine RECON, former Delta Force and former federal special operatives.
"There is no need to look beyond the borders of the United States for its protection on land or at sea; Nexus Consulting can provide the protection needed to deter piracy with US citizens who are specially trained to ensure that full compliance is achieved within US maritime laws," said Doherty.
Rarely, if ever, does a US flagged ship fly the American flag on the high seas. "On the third day of our trip, the Chief Mate asked me if I had any objections to flying the flag on our vessel. I was honored to witness the pride and professionalism of the crew during this honorable moment."
Of over one hundred ships observed during the passage through the Gulf, the American flag was the only observed flag flown. Doherty commented, "This represents what we stand for as a nation - we will not cower to threats of violence or ransom from lawless groups of pirates, but rather we will protect American interests, crews and cargo within the rubric of American laws and international mandates."
For more information about Nexus and to receive a free consultation please contact our sales department at: info (at) ncga (dot) us
About Nexus Consulting Group of Alexandria, LLC
Established in 2005, Nexus Consulting is a US veteran owned and operated private security company that places unprecedented focus on US law while actively protecting US citizens, equipment and cargo from the threats of terrorism and criminal activity. Nexus Consulting is currently taking the lead on international agreements regarding maritime commerce under the Nexus Solution.
Please visit Nexus online at: http://www.NCGA.US
# # #