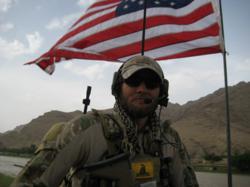 Salt Lake City, UT (PRWEB) July 04, 2012
Rockymountainmattress.com will be contributing to The Mark Forester Foundation scholarship fund via an essay contest; the contest's winner will receive a $1000 scholarship in Mark Forester's name to the school of his or her choice.
Senior Airman, Mark A. Forester was killed September 29th, 2010 in Afghanistan while risking his life to save a fallen comrade. Mark died serving his country, family and friends. He had courage and honor and gave selfless sacrifice. He embodied everything a hero is.
Rocky Mountain Mattress has been inspired by Mark Forester's personal story of heroism and The Mark Forester Foundation's charge for Americans to find ways to "Honor the Heroes". The "Honor the Heroes" concept was born on the day of Mark Forester's funeral as thousands of people gathered in Haleyville, AL individually contributing to what the Forester's described as "tremendous acts of Patriotism." Since that day, The Mark Forester foundation has been challenging Americans to continue to find ways to "Honor the Heroes" and to share those acts with others.
Rocky Mountain Mattress would like to further this great tradition by encouraging students to enter its scholarship contest; to enter the contest a student must write a 300-500 word essay explaining how he or she goes about "Honoring the Heroes" and why. Eligible students do not have to be currently enrolled in classes, but must be enrolled for the 2013 calendar year to receive the scholarship.
The deadline to submit an essay is December 10th, 2012 at midnight. Essays will then be reviewed and the winner will be announced on December 17th, 2012. The $1000 check will be written to the winner's school of choice and will be usable for tuition and book costs.
The Mark Forester Foundation is dedicated to sharing Mark's personal story of honor and valor, and inspiring Americans to "Honor the Heroes." This phrase has become their mantra and Rocky Mountain Mattress is excited to help share that mantra with many others through its new scholarship contest.
Rockymountainmattress.com is an American custom mattress company dedicated to excellent customer service and craftsmanship. They provide custom mattresses to RV and boat owners, utilizing the latest innovations in sleep technologies including natural latex, gel-infused memory foam, and more.