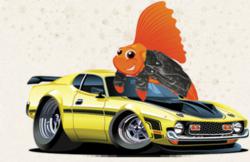 Our staff at RoadFish.com could not be happier for Mark.
San Francisco, CA (PRWEB) May 21, 2012
RoadFish.com men's lifestyle and finance magazine today gushed about its excitement for Mark Zuckerberg's big week, after the Facebook founder had a birthday, rolled out the big Facebook IPO, and capped it off by marrying his girlfriend of 9 years. Facebook's $16 billion IPO on Friday fell a bit short of expectations, with stock closing at only cents higher than it had opened with, but both Facebook and Zuckerberg remain in good position.
Marcus Wohlsen of the Associated Press reported that Zuckerberg and Chan married this past Saturday, in the backyard of Zuckerberg's $7 million Palo Alto house. A source close to the couple was quoted in the article as stating that approximately 100 friends and family members were invited to the couple's house on Saturday for what they were told was a congratulatory party for Priscilla Chan, who graduated from UCSF School of Medicine on Monday. Upon arrival, guests were "shocked" to learn that they were in fact wedding guests, and Zuckerberg and Chan proceeded to tie the knot in the backyard. Photos of the happy couple on their wedding day show Chan in a lacy white wedding gown and veil, and Zuckerberg donning a suit and tie with a white shirt.
Wohlsen's article states that Zuckerberg and Chan met at Harvard University, where they were both undergrads, and have been dating for 9 years. Chan, who is originally from Braintree, MA, graduated from Harvard in 2007, a year after Zuckerberg would have had he not left school to keep up with Facebook's growth. After she graduated, Chan taught science to grade-schoolers at an elementary school in San Jose, and began medical school after two years of teaching. She moved into Zuckerberg's Palo Alto house in 2010. Both Chan and Zuckerberg have reportedly changed their statuses on Facebook to "married."
RoadFish.com's Senior staff writer is quoted as saying, "Our staff at RoadFish.com could not be happier for Mark. Everyone here is a big fan of Facebook, and all of the guys who have worked so hard on it. Their IPO on Friday was a bit disappointing, but Mark's gotta be on top of the world right now regardless. He made a billion dollars off the deal, and the very next day married his sweetheart of nearly a decade. I'm happy for those two, and I hope they plan on taking a honeymoon somewhere exotic where they can both relax and bask in the newlywed glow. They deserve it!"
28-year-old Mark Zuckerberg is himself originally from Dobbs Ferry, NY. He started writing software for computers when he was in middle school, and learned the Atari BASIC Programming around the same time. His father hired a software developer to train Zuckerberg privately. When Zuckerberg was in highschool, he built a music player that was able to pick up on its user's listening preferences and would then suggest music akin to the user's taste. Both Microsoft and AOL attempted to buy the program, and in so doing recruit Zuckerberg to their companies. Zuckerberg turned down all offers and enrolled at Harvard University in 2002. During his sophomore year in 2004, Zuckerberg founded Facebook (then known as "the facebook") out of his dorm room. Within weeks he expanded the site to include colleges and universities outside of Harvard, and within months he and several friends and associates moved to California and found numerous investors. Facebook currently has nearly one billion members around the world and Zuckerberg was nominated for Time's Person of the Year in 2010, when he was just 26.
RoadFish.com is excited for Mr. and Mrs. Zuckerberg, and believes that Priscilla is a good match for Mark. RoadFish.com's Senior staff writer is quoted as saying, "I've seen some articles mocking the fact that the wedding was one day after the IPO, and that now Chan is a billionaire wife. I can't imagine that someone would go through medical school though if she weren't incredibly motivated and passionate about the field. And I certainly can't see somebody like that sitting back, basking in her new financial situation, thinking that now she'll never have to work again. I'm sure that Mark and Priscilla get along so well because they're both hard-working and driven. I wish them a lifetime of happiness."
The Associated Press article states that Zuckerberg is still Facebook's single largest shareholder, even after the IPO this past Friday. Zuckerberg holds 503.6 million shares, and he also controls 56% of the company's voting stock.
About RoadFish.com
RoadFish.com is an online men's lifestyle and finance magazine targeted toward men in their 30's and 40's that have already attained a moderate level of success in life, and are striving toward more. It goes over current events of interest to this group, such things as exciting adventures, consumer interests, and the European housing market as well as ways to make more and save more money. It is a publication owned by Purpose Inc.