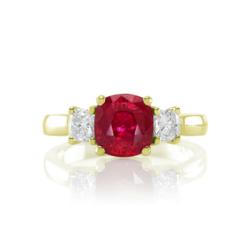 New York, NY (PRWEB) May 25, 2012
Ruby engagement rings are unusual in the United States, but in Asia, rubies are one of the most popular non diamond engagement rings.
"Priscilla Chan's choice of a ruby engagement ring isn't so uncommon by traditional standards in Asia. It's a conservative choice." Says Michael Arnstein, a specialty ruby dealer in New York.
"What's important to know is whether the ruby was imported legally into the United States. We've had a hell of a time legally importing rubies for the last 5 years."
In the United States, Burmese rubies have been banned from import since September 2008. (ref JCK) Congress passed the Tom Lantos Block Burmese JADE Act in 2008 prohibiting the import of Burmese-origin rubies. The act also bans gems that originate in Myanmar but are processed, treated or manufactured into jewelry in third-party countries such as Thailand. This restriction closes a U.S. Customs loophole that allowed Myanmar-originating stones into this country, despite a federal ban that dated back to 2003.
Importer Obligations - Under the new regulations, importers continue to be required to certify that their rubies were not mined or extracted from Burma. Yet this is not strictly enforced. The exporter must provide "verifiable evidence" that tracks the ruby from mine to place of first export. Arnstein claims, "The ruby engagement ring purchased by Mark Zuckerberg can possibly be an illegal import." Mr. Arnstein discusses this further in his recent Yahoo News interview.
Companies such as Tiffany and Co. and Cartier stopped selling Burmese rubies years ago because of Myanmar's human rights violations, and Jewelers of America has applauded the act's passage, encouraging member retailers to support international human rights by steering clear of the stones.
Evan Guttman, CIO of The Natural Sapphire Company in New York, "Ruby engagement rings have been a staple of our business for a long long time. We've had a number of recent calls from people looking for similar ring designs based on Priscilla's ring. We're not surprised, it's something that many of our clients choose for in an engagement ring. Mark's ring is estimated to hold a 3ct ruby with about 1ct of diamond side stones, set in 18k yellow gold, estimated to cost about $50,000.-65,000. if the ruby is of fine quality."
China's love for the red sun has kept the ruby industry thriving in Asia. Prices for fine quality rubies have skyrocketed in the last ten years as emerging economies in Asia demand more of the rare red gemstone.
Some recent auction results for fine quality rubies:
April 2005 - On April 12th at Christie's New York sale a 8.01 carat oval-cut Burmese ruby sold for $2,200,000 to an Asian private after heated bidding on the phones, setting a world auction record price for a ruby at $274,656 per carat.
Feb 2006 - On February 17, 2006 in St. Moritz, Switzerland, a 8.62 carat Burma ruby sold for $3.64 million at Christie's "Important Jewels". This set a new world record price for an unheated Burma ruby at $425,000 per carat.
April 2011 - An important 6.29 carat Burma ruby sold for $1.32 million at Doyle New York's Important Estate Jewelry auction on Wednesday, April 13. International competition drove bidding on the ruby ring past the pre-sale estimate of $60,000-80,000 to reach a staggering $1,322,500. At over $200,000 per carat, this is one of the highest prices per carat ever achieved for a ruby at auction.
May 2012 – Christie's Geneva Auction - The top lot of the sale was a 32.08 carats cushion-shaped Burmese ruby and diamond ring, known as "The Hope Ruby"by Chaumet, which sold for more than $6.7 million, well above its $5 million high estimate. It is a world record price for any ruby sold at auction.
###
Source:
The Natural Sapphire Company
http://www.TheNaturalSapphireCompany.com
Phone: (212) 869-1165
Info(at)TheNaturalSapphireCompany(dot)com