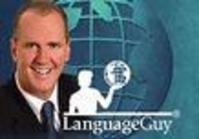 When you speak to people in your language, you talk to their head, but when you speak to people in their own language, you talk to their heart
Chicago, IL (Vocus) December 11, 2009
Mark Frobose, bestselling author of Macmillan Audio's entire foreign language program line announces free language lessons and language help articles are now available to the public on his website at: http://www.frobose.com.
"Christmas is a time of giving" says Frobose, a language expert who just this year appeared nationwide on MSBNC, in Entrepreneur Magazine, and on the Dennis Miller Show to a million and a half listeners. "Christmas is also a time of talking to hearts." Mark says.
"When you speak to people in your language, you talk to their head, but when you speak to people in their own language, you talk to their heart."
Mark's language CD and book courses are selling like hotcakes at the nation's bookstores and on the Internet and there's no sign that demand will be slowing down anytime soon. Why the sudden love affair with foreign languages and Spanish? According to Frobose, bestselling author of 'Behind the Wheel Spanish', this buying passion can be traced to one major source: the exploding Hispanic population in the U.S. "Hispanics now constitute our nation's largest and fastest-growing minority," said Frobose in an interview with Carlota Bradley of AP Network News in Washington, D.C. "Hispanics turned out in record numbers in the last presidential election and are now influencing our music, our cuisine, our economy, our politics, and even our language. Translation: Learning Spanish has never been more important for the average American."
Translation companies are reporting a record demand for their services and most privately owned businesses and even government agencies admit to giving preference to applicants who can speak more than one language, especially Spanish and Mandarin Chinese. Business owners, supervisors, and employees from all walks of life complain that knowing how to speak at least something in another language would help them enormously in both their careers and their leisure time.
How is the American public responding to this change? They're rushing in record numbers to buy language courses at the nation's bookstores, on the Internet, and from Amazon.com. According to Frobose, who has penned and recorded over 60 foreign language titles since 1981, Spanish courses are selling over three times faster on at http://www.macmillanaudio.com and Amazon.com than any other language. "Spanish is where the demand is greatest," states Frobose, but other languages like Chinese are gaining ground quickly."
Mark Frobose is a well-known foreign language author and keynote speaker who has recently been a guest on major TV and radio programs such as FOX 5's Good Day New York, on Culinary Confessions with Kim and Don in Phoenix, in Miami on the Rich Roffman Show and nationwide on the Dennis Miller Show. His 'Behind the Wheel' foreign language CD series is rated as "Among the Best" and as a "Great Value" by Men's Health Magazine. Mark's publisher, Macmillan Audio of New York also offers courses in French, Italian, German, Portuguese, Arabic, Mandarin Chinese, and many others. His website at http://www.frobose.com offers free language help articles in different languages as well as free tips on how to learn to speak any foreign language quickly and easily. Courses may be purchased at http://www.macmillanaudio.com, Amazon.com, and at libraries and bookstores nationwide. Frobose also has a blog located at http://blog.frobose.com
Mark Frobose – Language Expert, Professional Speaker & Consultant
President
Frobose Enterprises Inc.
Phone: 217-621-1107
Fax: 888-773-4427
###