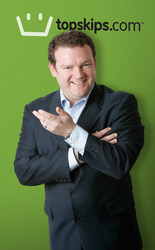 My mission is to give business owners enough knowledge to stop them being ripped off in Internet Marketing
Manchester (PRWEB) April 3, 2010
Following two successful seminars in 2009 on the "Art of Blogging for Business" and on "Google Adwords for Small Business Owners", Cheshire-based internet marketing expert Mark Attwood is launching his "Keyword Hospital System" seminar for business owners keen to take control of marketing their websites on the internet for maximum profits in minimum time.
The seminar is on 1st May 2010 at a secret location in the Greater Manchester area and is open to just 20 business owners.
"It's important we keep things exclusive because of the amount of attention I like to give attendees" he said.
Attwood has been running businesses online for nearly 10 years, having created the world's first online skip hire services, Topskips.com, in 2003. His longest running business, Fireball Media Ltd, is still going strong after he started it in 2000 (he sold out in 2005).
He started teaching internet marketing in late 2008 when he went to a business seminar in San Diego and realized that even successful business people had websites that were not performing anywhere near their potential.
He says "It was shocking to me not only how badly these websites were performing for their owners but also how much money they had wasted on outsourcing functions such as website design and architecture, search engine optimisation, copywriting and pay per click advertising."
"So many of them had had the wool pulled over their eyes, as I had early in my online career, that I took it upon myself to start teaching people to take control of their internet marketing."
"At the very least, my mission is to give business owners enough knowledge to stop them being ripped off in the future if they do decide to outsource these important marketing functions."
"Simply changing the layout of a web page can have profound effects on a business – and I love teaching people how to do this."
SEO Expert Attwood has spoken on the subject of SEO and Internet Marketing at prestigious venues across the UK such as The British Library, as a guest of the first lady of Dragon's Den Rachel Elnaugh, and at the Business School at Manchester Metropolitan University, as the guest of the Dean, Professor Huw Morris.
He has also spoken at various business networking events across the UK, including the Federation of Small Businesses.
"As someone who has generated nearly £15 million using internet marketing, been through an administration after having £257,000 defrauded from us, won a business award, lived through death threats and online hate campaigns, inspired scores of business owners to increase their turnover and profits by large percentage points, I feel uniquely qualified to teach others how to do it and more importantly - how not to do it!"
Attwood managed to pull off a 6-figure investment from one of the UK's wealthiest individuals to take his skip hire, site services and event hire business, TopTriangle.com to new heights back in April 2009.
"We've had a robust 12 month's trading following all the slings and arrows of the recession and post-administration fallout. We now have financial management and control to match the quality of our internet marketing and sales training"
"We've also started recruiting again, so being well-capitalised makes the security of the jobs we saved last year look even better."
"99% of the companies that lost out through the administration got back into profit with us very quickly– the other 1% are always welcome back on board."
TopTriangle.com provides a wide range of services nationwide including skip hire, toilet hire, generator hire, asbestos removal, container hire, plant hire, digger hire and tool hire.
For further details on Mark Attwood's seminar go to http://www.KeywordHospital.com or keep up to date on his blog: http://www.MarkAttwood.com
###