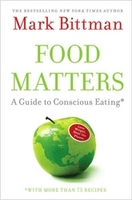 New York, NY (PRWEB) April 7, 2009
Think your food choices don't have an impact on global warming? Think again. Consider this: In terms of energy consumption, serving a typical family-of-four steak dinner is the rough equivalent of driving around in an SUV for three hours while leaving all the lights on at home. With Earth Day around the corner, and the food revolution gaining steam, now is the time for every American to take a hard look at their eating lifestyle and its effect on the environment.
From the best-selling author of How to Cook Everything and How to Cook Everything Vegetarian comes a no-nonsense plan for eating that's as good for the planet as it is for your health.
In Food Matters, Bittman offers an uncomplicated rundown of how government policy, big business marketing, and global economics influence what we choose to put on the table every night. He demystifies buzzwords like "organic," "sustainable," and "local," and offers straightforward, budget-conscious advice that will help make small changes to shrink your carbon footprint -- and your waistline.
Bittman's plan comes not a moment too soon, as he reminds us that without major and immediate changes in the way Americans eat, the future of our planet is bleak.
Food Matters is the eleventh PBC Pick for Progressive Book Club, which launched its Web site in June of 2008, following The Big Squeeze: Tough Times For the American Worker by Steven Greenhouse (June), Moral Clarity: A Guide for Grown-up Idealists by Susan Neiman (July), The Power of Progress: How America's Progressives Can (Once Again) Save Our Economy, Our Climate, And Our Country by John Podesta (August), The Way of the World: A Story of Truth and Hope in an Age of Extremism by Ron Suskind (September), The Green Collar Economy: How One Solution Can Fix Our Two Biggest Problems by Van Jones (October), Promised Land by Jay Parini (November), State by State, edited by Matt Weiland and Sean Wilsey (December), The Defining Moment by Jonathan Alter (January), The Inheritance by David E. Sanger (February), and Angels and Ages by Adam Gopnik (March).
The PBC Pick is chosen monthly by Progressive Book Club's Editorial Board, whose distinguished members include Michael Chabon, Dave Eggers, Barbara Kingsolver, Hendrik Hertzberg, Gail Sheehy, Katrina vanden Heuvel, John Podesta and Andy Stern, among more than two dozen prominent authors, journalists, academics and politicos.
About Progressive Book Club
Progressive Book Club finds - and promotes - the books that can change our nation by harnessing the power of the Internet to create an important new platform for progressive ideas. Part bookseller, part online magazine, Progressive Book Club is the best new way to buy books and support progressive causes with every book you buy.
###