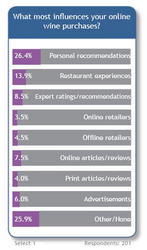 This survey emphasizes and quantifies the personalized nature of people's wine preferences, and the value of receiving personalized wine recommendations from people and sources that you trust
San Francisco, CA (PRWEB) September 18, 2007
Vizu Corporation, a leader in providing do-it-yourself market research, today announced a benchmark survey on consumer attitudes towards online wine purchases. Results show that 73 percent of wine shoppers place more trust in user reviews and expert ratings. The survey also identified shipping as the number one obstacle to online wine purchases.
"This survey emphasizes and quantifies the personalized nature of people's wine preferences, and the value of receiving personalized wine recommendations from people and sources that you trust," states Alyssa Rapp, CEO of Bottlenotes.
The survey, conducted by Vizu Answers in partnership with Bottlenotes, Beltramo's and The Sideways Wine Club, revealed that user-generated content in the form of reviews were given the highest degree of trust (42%) with expert ratings close behind (31%). Similarly, personal recommendations were cited as the biggest influence for online wine purchases (26.4%). These consumer research results indicate the strength of word-of-mouth marketing and social commerce.
"Wine is a social experience and that has been missing online," says Dave Chambers, owner of The Sideways Wine Club. "These statistics make it clear that we need to create community, develop interactive features, and provide wine enthusiasts with a social context as part of the online purchase process. Wine needs to be fun again!"
Shipping remains the largest obstacle for online wine purchases, with a combined 46% of respondents citing shipping cost (21%), state shipping restrictions (14%) and speed of shipping (11%) as reasons not to purchase wine online. While the reasons not to buy online are clear, the benefits to shopping online are not as well defined. Convenience, selection and price nearly deadlocked as benefits, and no dominant online channel for wine purchases emerging.
The news isn't all bad. The market potential for online wine retailing is big, with only 17% regularly purchasing wine online, and 50% of respondents identifying themselves as regular wine drinkers. "We've only scratched the surface of the online wine industry," says Harry Bird, General Manager of Beltramo's. "The confluence of fragmented wine sales channels, access to broadband Internet connections, and full acceptance of online purchasing is approaching."
To access the full market research report, please download the Online Wine Market Research Report
About Vizu:
Vizu is an innovative company that combines an easy-to-use polling platform with a diverse network of websites. The technology allows anyone to conduct fast, affordable market research or to provide interactive content through a free polling widget. Vizu users include Glamour, Orbitz, Sephora, Jobster, Popstar! Magazine, Cozi, Second Life, TeeBeeDee, TripWiser and is the polling partner for all Wetpaint Wikis.
Headquartered in San Francisco, California, the company is privately held with funding from Draper Fisher Jurvetson, Bill Hambrecht, Esther Dyson and Ron Conway. To learn more please visit Vizu.
Reasearch Sponsors:
Beltramo's Wines and Spirits, Bottlenotes, and The Sideways Wine Club.
Contact Information:
A.J. Kohn
ajkohn(at)vizu.com
(415) 362-8498 x17
###