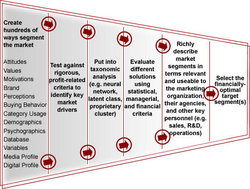 The digital revolution in marketing has added a layer of complexity to the information marketers need to capture about customers and how to value them.
Boston, MA (PRWEB) June 3, 2010
Known for pushing the envelope of marketing research to advance the practice of marketing, Copernicus Marketing Consulting and Research announces a "digitally-enhanced" approach to market segmentation that will help marketers understand and execute against the digital behaviors of buyers in their category or industry.
According to Eric Paquette, a senior vice president leading the digital charge at Copernicus, "The digital revolution in marketing has added a layer of complexity to the information marketers need to capture about customers and how to value them."
"Marketers need to not only understand where targets go digitally, for example, but also how they want to interact with a brand in a digital environment. Are they 'spectators' or 'commentators' or 'authors' in the digital world? What are the implications for how marketers design websites, iPhone apps, and other content?"
As marketers shift more and more of their attention and budgets towards digital efforts, adapting their market segmentation research to help make more effective and efficient digital media decisions is the next logical step.
An Aegis Media Company, Copernicus tapped into the knowledge and frontline expertise of Aegis' network of traditional and digital agencies to boost the relevancy of market segmentation research results to new and established media decisions. The firm has a special understanding of the critical importance of actionability thanks to its direct involvement with more than 300 market segmentation exercises for B2B and B2C companies around the world.
"Marketers routinely struggle with how to apply the results of market segmentation research to key decisions, and now--thanks to the digital explosion--the world has become even more complicated," explains Kevin Clancy, chairman at Copernicus. "Delivering insights marketers can use to build a high-performance marketing strategy and tactical plan drives the work we do for clients."
Towards that end, every Copernicus market segmentation:
1. Identifies market segments that clearly differ in terms of their profit potential for a brand so marketers can easily chose a target.
2. Describes the groups in terms of clear sets of attitudes, motivations and brand perceptions so marketers can develop effective positioning and messaging strategies to address them.
3. Integrates "brand advocacy" in the assessment of segment value so marketers can select a target predisposed to driving positive word-of-mouth.
4. Profiles market segments in terms of digital and traditional media behaviors and habits so marketers have a guide for advertising and communications planning.
5. Finds the groups in syndicated traditional and digital media databases so marketers can more wisely allocate their media budget.
Now more than ever, marketers need solid, profit-oriented customer insights to guide critical marketing decisions, especially when it comes to reaching and impacting customers, explains Clancy.
"Our revamped approach overcomes the issues that undermined the success of market segmentation research efforts in the past and gives marketers much needed help tapping into digital opportunities."
For more information on using market segmentation research to guide digital media decisions, read Eric's interview on the Marketing Fray blog or contact Brett Goodwin at (203) 831-2374.
Copernicus provides customized and growth-oriented insights and recommendations that help clients increase the performance of their marketing programs and new products/services. Working across categories and industries, the firm uses state-of-the-science marketing research tools and innovative techniques to empower clients to make high impact, profit-driven marketing decisions. For more information about the company, visit http://www.copernicusmarketing.com.
# # #