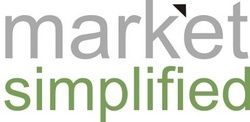 Market Simplified mobile carries nifty features like advanced technical charting, technical alerts, and a simple search function in addition to the most critical trade execution function. In times of such market volatility we believe investors will greatly appreciate the ability to track, trade and protect their portfolio on their Blackberry
CHICAGO (PRWEB) September 24, 2008
This announcement marks a clear delineation between online brokers offering previous generation WAP based mobile trading and new, more powerful native applications. Current market volatility makes the case for a mobile trading and portfolio monitoring solution more acute.
This mobile trading platform enables online equity and options brokers to go mobile in a matter of weeks rather than months. With the mobile OS universe fragmented, the greatest challenge for brokers is to ensure their application is compatible with all mobile phones. This SaaS platform solves this problem by building a program that supports all mobile operating systems.
The service is currently available for the BlackBerry® Curve™, BlackBerry® 8800 Series Smartphones, and other Smartphone models running BlackBerry® Device Software 4.1 or higher, with support for the BlackBerry® Pearl™ and BlackBerry® Bold™ following soon.
"Market Simplified mobile carries nifty features like advanced technical charting, technical alerts, and a simple search function in addition to the most critical trade execution function. In times of such market volatility we believe investors will greatly appreciate the ability to track, trade and protect their portfolio on their Blackberry" says Venkat Rangan, CEO of Market Simplified Inc.
The company has a slew of feature additions planned for the next two months which will drive enhanced value into the Market Simplified Mobile application, including planned release on other mobile device platforms.
Market Simplified mobile is accessible at http://www.marketsimplified.com/mobile and comes loaded with 1 year of free premier access for its partner broker's clients. The mobile application is also available on a 30-day free trial without a brokerage account.(a)
About Market Simplified:
Market Simplified offers products and services for Financial Markets on an innovative SaaS model that is delivered on-demand to financial institutions, data providers and end participants:
Access to broker and Market Simplified portfolios Access to brokerage account cash balance Trade execution using a partner broker Stock and mutual fund quotes Dynamic risk management alerts Technical charting and analysis Live watch list Fundamental data Live news Market Simplified is a wholly owned subsidiary of INXS Technologies Ltd. Based in Chicago, Market Simplified offers retail investors trade execution ability on their mobile and Financial Institutions with custom mobility solutions to empower their workforce and client base.
(i) The BlackBerry and RIM families of related marks, images and symbols are the exclusive properties and trademarks of Research In Motion Limited
(a) Wireless charges may apply. Please check with service provider.