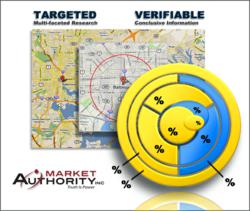 "We determine and prove print versus Internet usage… actuality and perception, smart phone ownership and usage, Internet connectivity, etc., market by market, all organized by today's ever growing imperative – age groups," states Steve Sitton
Folsom, CA (PRWEB) July 12, 2011
Market Authority, Inc. is the leading U.S. market research firm studying the question of how American's search for a local business. In what surely must be the largest and most extensive directional media study ever performed, Market Authority, Inc. offers irrefutable data, analysis and reporting on how people look for a local business when making a buying decision. The research fully dispels the prevalent 'urban myth' that the Internet has taken over the local search arena. "The Internet is gaining ground but surprisingly, overall it is a long way from dominating print Yellow Pages as America's primary search option," says Deanna S. Helsten, Director of Research Market Authority, Inc. "We determine and prove print versus Internet usage…actuality and perception, smart phone ownership and usage, Internet connectivity, etc., market by market, all organized by today's ever growing imperative – age groups," states Steve Sitton, CEO Market Authority, Inc. The research also details the often remarkable difference between metropolitan, suburban and rural markets. In nearly every market in America, print yellow pages is still very strong. "This is exactly what local and national advertisers need today to help them determine what proportion of their budget should be devoted to print as well as to the Internet so that they can continue to gain the high ROI they are used to receiving," says Kari Simpson, DMI, the sales and marketing arm of Market Authority, Inc.
"This is probably the most powerful sales tool in history," says Todd Baldwin, Everyday Media. The average sales person using the Market Authority research in their sales calls estimates that he or she is selling approximately 34% more than they would have sold without it.
Market Authority, Inc. aligns its practices with the strict codes and standards expressed by ESOMAR and other market research organizations such as the American Marketing Association.
For more information on Market Authority, Inc.'s market studies, contact Kari Simpson, DMI at 816-537-7950.
About Market Authority, Inc.:
Market Authority, Inc. was founded in 2009 by Steve Sitton who has been in the directional media business for over 25 years, owning and operating several companies during his career. His industry experience has shaped the research methods to exacting efficiency. All markets are researched for behavioral, demographic, technological, and directional media usage patterns. Market Authority, Inc. performs and records the research, gathers and analyzes the data, with state-of-the art precision; and now is able to define the roles the Internet and print play in today's directional media industry.
###