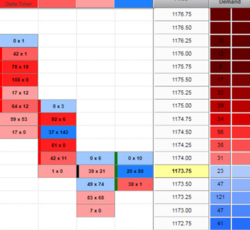 MarketDelta Trader is offering a striking view that was once only available to exchange members and floor traders" says Trevor Harnett, co-founder of MarketDelta. Any software that offers more precise information is extremely valuable.
Chicago, IL (PRWEB) October 25, 2011
MarketDelta Trader's innovative design unlocks trading efficiencies by providing an instantaneous before and after view of the market with insight into order flow, trading volume size and price activity. Up to now, traders only had access to open, high, low, close price information. The new trading interface design by MarketDelta breaks this information down into price blocks, offering an inside view which helps a trader better assess market conditions and make more informed trading decisions.
MarketDelta Trader is a free to use trading software application with a small per-trade transaction fee for live trades only. The software is available through approved brokers which are authorized to offer the software, with more brokers and order routing systems coming online in the months ahead.
About MarketDelta LLC
MarketDelta LLC was formed in 2003 and created a charting and analytics platform that now serves traders and investors in over 40 countries. MarketDelta offers three distinct products all of which focus on traders and investors. With the release of MarketDelta Trader, MarketDelta now offers a complete trading, charting, and analytical suite of products. MarketDelta also has a mobile apps division tasked with creating software apps for Apple Inc. devices.
###