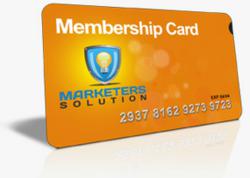 Dan Lew Teaches $1.5 Million Dollar Per Year Business Plan To Members
Escondido, CA (PRWEB) August 22, 2012
Living the life of an internet marketer, and having the freedom to spend time with family and friends without having to worry about work is a dream in many people's eyes. But when it comes to the internet marketing world, very few can actually say that they have changed their lives drastically and been able to quit a day job to do online marketing full time.
Due to the harsh failure rates, many turn to successful online marketers like Dan Lew to get powerful insight and training. Dan Lew has generated $600,000 in the past 7 months online and he is prepared to share his knowledge with everyone in his upcoming membership and training program called Marketers Solution.
Marketers Solution not only teaches members how to be a better online marketer, but also teaches the skills to be a product creator and how to make money in the offline marketing niche. According to Dan Lew, "This is a $1.5 million dollar per year business plan!"
Marketers Solution Membership Review
Inside Marketers Solution membership website Dan Lew has shared some of his more successful tools that have helped him automate his business. Tools that will help build websites, gain social media marketing attention, and keyword research. The beauty of this membership and coaching program is that it can help a marketer at any skill level get ahead of its competition.
Marketers Solution Training Videos
Dan has set up Marketers Solution so that a rookie marketer or a veteran internet marketer can come in and be able to learn from Dan and his success. Not only is Marketers Solution going to provide members with over twelve automation tools, but Dan is going to show members exactly how to create a product and sell it on platforms such as the Warrior Forum.
Marketers Solution members will learn exactly how to create a product, build a list of joint-venture partners, create a sales funnel, attract buyers, gain high conversion rates, and then how to treat the customers after the sale. Each of these equally important skills will be taught by Dan, who has had many successful launches over the past several months on Warrior Forum, JVZoo, and many other platforms.
Marketers Solution Coaching
Not only does Marketers Solution provide members with 244 training videos and 12 award winning automation tools, but it gives members the chance to partake in an open community forum and monthly live webinars so that members can talk with Dan in person and get questions answered right away.
Dan Lew's Marketers Solution is set to launch on Wednesday August 22nd. Dan has set up his membership site to be a one stop shop for marketers who want to brush up a skill, or even learn a completely new one. Now days, taking the hard route of being self-taught are something many people who are doing marketing don't have the time or skill set to get ahead and become successful. But learning from a marketer that has had great success could be greatly beneficial and rewarding.
For more information please visit the Marketers Solution Official Website.