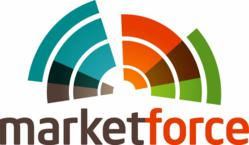 This award is a testament to all the hard work of our team members
Boulder, CO (PRWEB) May 25, 2012
Market Force Information, the world's leading customer intelligence solutions company, was named a Red Herring Top 100 North America award winner at the Top 100 awards dinner on May 23 in Santa Monica. The award recognizes the leading private companies from the Americas, celebrating their industry innovations and technologies.
"We are honored to be included among this distinguished group of companies and entrepreneurs," said Karl Maier, founder and CEO of Market Force. "This award is a testament to all the hard work of our team members, and gives us even more incentive to excel in all facets of our business."
The Red Herring Top 100 Americas list has become a mark of distinction for identifying promising new companies and entrepreneurs. Red Herring editors were among the first to recognize that companies such as Facebook, Twitter, Google, Yahoo, Skype, Salesforce.com, YouTube and eBay would change the way we live and work.
"Choosing the companies with the strongest potential was by no means a small feat," said Alex Vieux, publisher and CEO of Red Herring. "After rigorous contemplation and discussion, we narrowed our list down from hundreds of candidates from across North America to the Top 100 Winners. We believe Market Force embodies the vision, drive and innovation that define a successful entrepreneurial venture. Market Force should be proud of its accomplishment, as the competition was very strong."
Red Herring's editorial staff evaluated the companies on both quantitative and qualitative criteria, such as financial performance, technology innovation, management quality, strategy, and market penetration. This assessment of potential is complemented by a review of the track record and standing of startups relative to their sector peers, allowing Red Herring to see past the "buzz" and make the list a valuable instrument of discovery and advocacy for the most promising new business models in Americas.
About Market Force Information
Market Force is the leading global customer intelligence solutions company for multi-location businesses, including major retailers, restaurants, grocery and convenience stores, financial institutions, entertainment studios and consumer packaged goods companies. With more than 125 years of combined industry experience, Market Force Information has pioneered the industry with a suite of customer intelligence solutions – from 600,000 field associates across North America and Europe who conduct mystery shopping, merchandising and retail auditing, to real customer surveys and proprietary decision-support tools. Its solutions provide a holistic view of the customer's on-site experience and identify the actions required at the store level to increase customer loyalty and improve financial performance. Market Force was named one of Forbes' America's Most Promising Companies in 2011. For more information, visit http://www.marketforce.com.
###