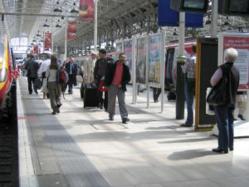 We're trying to help 1,000 people become millionaires next year.
Houston, Texas (PRWEB) October 27, 2012
Russell Brunson made his millions the good old fashioned way with hard work. This marketing millionaire is now helping those unemployed in high unemployment states to learn the very methods he used to start his full-time income online. The online jobs training method is simple and does not require previous experience. Russell has been privately teaching average people how to make money for a decade. The jobs training can be accessed through this portion of the InternetMarketingCoaching.co website.
A survey conducted by the Boston Consulting Group revealed that there are 12.6 million millionaires in the USA as of December 2011. While some of these people earned money offline, a portion of these earners made wealth thanks to the Internet. Russell Brunson is one of these statistics although his jobs and business training is straightforward and is designed to help others achieve financial goals.
"We're trying to help 1,000 people become millionaires next year," said Russell in his training series.
Part of the online income that many Internet marketers are earning comes from affiliate income. These earnings are paid out of the sale of a product or service that is owned by a third party. This affiliate marketing income is helping more people achieve financial independence as online workers. A portion of the training that is offered through the InternetMarketingCoaching.co website includes affiliate marketing setup and promotion.
High unemployment numbers in some states have led to some people exploring alternative options to earn a monthly salary. Jobs in the customer service industry, manufacturing and textiles industries have all suffered from the 2009 recession. Internet marketing is helping to provide online income generating opportunities for some people that have the knowledge to work in this field.
"An Internet connection is all that is required to go through this training," said Russell Brunson.
Some online jobs or business training requires upfront fess for processing or accessing information. The millionaire marketing training that is offered through the InternetMarketingCoaching.co website is entirely different. While a small one-dollar fee is required to reserve a spot, money that is earned can be kept by workers or entrepreneurs that go through the training. This unique opportunity is an alternative to average online business training or job training programs.
To help more workers to reach their goals, a complete 60-day guarantee is offered for any fees that are paid. This is to ensure that all people that put the training to use can earn income online without fear of losing an initial investment if expected results are not achieved. Russell himself backs up this guarantee and any income that is generated for Russell is donated to local charities. This training course is designed to help people start working online instantly.
About InternetMarketingCoaching.co
Expert marketing and business income generation are two of the core elements of the InternetMarketingCoaching.co website. A group of experienced marketers started this company in 2010 and it has grown annually since. Thousands of weekly visitors to the InternetMarketingCoaching.co website sort through the Internet marketing tips, training and helpful tools that are offered free of charge. The Internet Marketing Coaching experts provide free information online and hold frequent online and offline seminars to provide advanced training to men and women trying to expand income earned online.