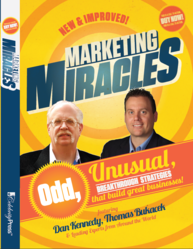 "Marketing Miracles is now available with over $1,000 in bonuses...
Austin, Texas (PRWEB) September 13, 2012
"Marketing Miracles: Odd, Unusual, Breakthrough Strategies That Build Great Businesses' By Dan Kennedy and Tom Bukacek and other successful business owners from around the world is now available for purchase through Amazon.com for $19.95. As an added incentive, the authors have put together a package of special bonuses worth more than $1,000 for purchasing through this link and sending the receipt to bonus(at)celebritypresspublishing(dot)com/
"Marketing Miracles: Odd, Unusual, Breakthrough Strategies That Build Great Businesses, is full of the newest, the best and, of course, the most extreme ways to deliver your marketing message in the most impactful way possible," states Angie Swenson of the Dicks Nanton Agency, the company responsible for assembling the talent for this book.
For more information about "Marketing Miracles" please click here.
In addition to Mr. Kennedy, Black Box Social Media CEO Tom Bukacek is one of the contributing authors who wrote a chapter on social media optimization.
"I am honored to be featured in a book with marketing legend Dan Kennedy," says Mr. Bukacek. "I began reading his books in 2006 and the opportunity to write a chapter in one of his books focused on social media marketing was just too great of an opportunity to pass up."
In 'Marketing Miracles', marketing legend Dan Kennedy leads a group of experts in a discussion of the greatest marketing secrets of today. 'Marketing Miracles: Odd, Unusual, Breakthrough Strategies That Build Great Businesses' will feature business and marketing professionals from around the world revealing top marketing secrets and strategies. Some of the topics to be covered in the book include the customer experience, social media marketing, new rules of marketing and analytics, pricing, turning opt-ins into sales and marketing technology, and much more.
"This book is a great opportunity for us to tell a little bit about how Black Box Social Media was able to create and implement successful social media marketing plans for various customers and compete with some of the top Internet marketers in the world without having pre-established mailing lists," continues Mr. Bukacek. "It's not rocket science; rather we've figured out what works to get people found online and increase sales. I'm thrilled that we can share our story in a book with someone of the likes of Dan Kennedy."
To purchase the book, please visit http://blackboxsocialmedia.com/Marketing-Miracles-Book
About Dan Kennedy: Dan S. Kennedy is the provocative, truth-telling author of seven popular 'No B.S.' marketing books, thirteen business books total; a serial, successful, multi-millionaire entrepreneur; trusted marketing advisor, consultant and coach to hundreds of private entrepreneurial clients running businesses from $1-million to $1-billion in size; and he influences well over 1-million independent business owners annually through his newsletters, tele-coaching programs, local Chapters and Kennedy Study Groups meeting in over 100 cities, and a network of top niched consultants in nearly 150 different business and industry categories and professions.
About Black Box Social Media: Tom Bukacek is one of the owners of Black Box Social Media, along with business partners Curt Maly and Nick Bridges. He is also the co-creator of 'Social Media In 7 Minutes', an online training and implementation program designed for small businesses to learn how to utilize Facebook, Google+, Twitter, YouTube, and other social media sites for marketing. This highly acclaimed program will show anyone how to create and implement their own online marketing plan without having to spend hours researching by utilizing their video training programs. In addition, Social Media In 7 Minutes also provides users with their very own all in one social dashboard, which will allow users to post on all of their social sites from one location in less than 7 minutes a day.