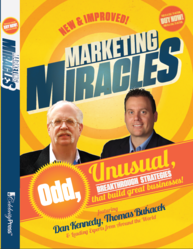 Marketing Miracles features some of the newest, the best and, of course, the most extreme ways to deliver your marketing message in the most impactful way possible...
Austin, TX (PRWEB) October 10, 2012
Thomas Bukacek, CEO of Black Box Social Media, has joined a select group of the world's leading experts from a variety of industries, along with best-selling author Dan Kennedy, to co-author the book titled Marketing Miracles: Odd, Unusual, Breakthrough Strategies That Build Great Businesses! The book was released by CelebrityPress™ - a leading business book publisher.
Marketing Miracles features top advice from leading entrepreneurs, business owners and marketing experts in a variety of industries from around the world. The authors tackle an array of subjects including the most creative strategies and tactics to attract clients and customers…and keep them, as well as guarantee higher sales conversations. Thomas Bukacek contributed a chapter titled "4 Keys To A Successful Social Media Optimization Plan."
On the day of release, Marketing Miracles, reached best-seller status in five Amazon.com categories - The book reached best-seller status in the Direct Marketing, Marketing Research Business, Marketing, Marketing and Sales, and Small Business and Entrepreneurship categories.
Tom Bukacek is an author and social media marketing expert sought out by professionals seeking to brand themselves online. Tom utilizes the latest web 2.0 marketing strategies, such as social networking sites, video marketing, local online search, pay per click, article marketing, web design, and more. His clients include real estate professionals, doctors, bestselling authors, motivational speakers, Reality TV stars, professional sports teams, and more. Tom recently spoke at the NBA owners meetings in Chicago about how they can improve their online presence.
Along with business partners Curt Maly and Nick Bridges, Tom is the owner of Black Box Social Media and co-creator of 'Social Media In 7 Minutes', an online training and implementation program designed for small businesses to learn how to utilize Facebook, Google+, Twitter, YouTube, and other social media sites for marketing.
Marketing Miracles features some of the newest, the best and, of course, the most extreme ways to deliver your marketing message in the most impactful way possible - all devised by successful business leaders who aren't afraid to innovate or outrage. Prepare yourself for proven powerful strategies that deliver.
From CelebrityPress®:
Regardless of whether or not you are an experienced speaker, trainer or entrepreneur or you wish to review the most contemporary concepts in today's health, wealth and success, the ideas that these Celebrity Experts bring to the table will be worth their weight in gold when you read and incorporate them into your daily life.
After such a successful release, Thomas Bukacek will be recognized by The National Academy of Best-Selling Authors®, an organization that honors authors from many of the leading independent best-sellers lists.
To order a copy of the book, please go to Order Marketing Miracles
For more information on Tom, his company, his services, and to receive a free copy of his eBook 'Social Media Domination', please visit http://www.BlackBoxSocialMedia.com or call (512) 501-6414.
About Celebrity Press™:
Celebrity Press™ is a leading business, health and wellness book publisher that publishes books from thought leaders around the world. Celebrity Press™ has published books alongside Jack Canfield, Brian Tracy, Dan Kennedy, Dr. Ivan Misner, Robert Allen and many of the biggest experts across diverse fields. CelebrityPress™ has helped launch over 500 best-selling authors to date.