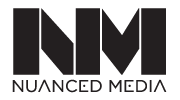 Tucson, Arizona (PRWEB) June 14, 2013
Nuanced Media announced today that they added ABC Assisted Living to their ever growing list of partners. Nuanced Media continues to add clients and expand their web design influence across the Southwestern portion of the United States.
ABC Senior Advisors is your best local source for all consultative services relating to seniors and their aging transitions. Andrea's goal is to make any transition as seamless as possible by offering expert, caring guidance—with dedication in finding aging loved ones the best care and services for each person's needs and budget.
The main concept of the Nuanced Media Marketing Team is to create impactful websites catered to the clients niche. If the customer's website does not reflect their type of business, they are missing thousands of potential clients. Nuanced Media is an all aspects department ranging from Graphic Design, SEO, E-Commerce, Conversion Optimization, Responsive Design and CMS integration.
Another important factor of any business is making sure to take steps forward. Nuanced Media is committed to creating a brand identity. This means on every thing the customer publishes, make sure your company's touch is felt. The Nuanced Media team understands that not all company's are the same so why communicate like them?
About Nuanced Media:
Nuanced Media is a revolutionary marketing, website design and business consulting website. Nuanced takes pride in our hard work and dedication to drive more consumers towards the webpage. Through social media marketing, search engine optimization, and personalized web design the Nuanced Team ensures professional products.