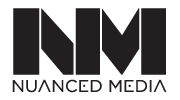 Phoenix, Arizona (PRWEB) April 25, 2013
Nuanced Media continues to expand their domain, even tackling plug-ins. One of their first plug-ins, meetup, recently topped 4300 downloads. The accomplishment comes with a overall customer rating of 3.8 out of 5 stars. The WP meetup plug-in allows users to fetch information from meetup.com to find or create posts for each event.
Nuanced Media seeks to make customers lives easier. With advanced web design, the nuanced team has found numerous ways to attract potential customers to client's websites.
Nuanced Media is an online marketing, business consulting, and website design agency that improves the online presence and marketing strategies of Tucson businesses.
The services of Nuanced Media are affordable and timesaving. With careful consultation they reduce time otherwise spent on frivolous marketing tactics, and with their web traffic experts Nuanced Media maximizes the Search Engine Optimization of a website to tune it to the best possible web viewership.
Search Engine Optimization (SEO) is the process of increasing the prominence of a website in search engine results. That means that when a search occurs involving the service of a certain business, the website of that business will show up on the first page of search results instead of, say, the third or fourth page. In turn, this directly increases the web traffic of a website because people are more likely to click on the first few hits than continue perusing the next few pages of results. SEO often determines which among websites of competing businesses will garner the most web viewers.
Nuanced Media utilizes all aspects of SEO to improve the search engine visibility of their Tucson clients. Local, image, video, and vertical (industry specific) are the kinds of searches Nuanced Media tackles, each one requiring its own specific SEO techniques. Offering these affordable services allows Nuanced Media to connect Tucson businesses with potentially millions of web-browsing customers. It ensures that a business with a great brand and great product can and will be found in a vast online world.
About Nuanced Media:
Nuanced Media is a revolutionary marketing, website design and business consulting website. We pride ourselves in our hard work and dedication to drive more consumers towards your webpage. Through social media marketing, search engine optimization, and personalized graphic design we ensure that your company will love our work.
Follow us on Facebook and Twitter