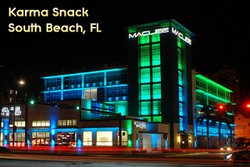 Miami Beach, FL (Vocus) October 19, 2010
Karma Snack, a Miami based social medial agency is now introducing the Karma Blueprint; a structural plan for online marketing campaigns. Karma Snack specializes in advanced internet marketing services and digital media campaigns. The agency provides clients with complete online marketing campaigns which integrate PPC management, search engine optimization, email/newsletter marketing, affiliate marketing management, local SEO setup, and social media marketing, all built with branding in mind.
Running a business of any size takes a lot of work. A successful business of any kind today requires a website in order to be successful. The best solution for many business owners has been to hire Karma Snack to take care of all their online marketing. The new Karma Blueprints includes in-depth keyword research, demographic research, psycho-graphic analysis, behavioral analytics and predictive analysis of a client's industry.
As a web agency, Karma Snack is dedicated to generating results for a client's online business in as little as 2 to 12 weeks for full scale marketing campaigns. Karma utilizes unique social media portals to drive in traffic. Simultaneously Karma Snack builds organic rankings to compliment the PPC lead and traffic generation. With the right sized marketing campaign, clients are able to see results much sooner than what traditional SEO companies are able to produce. The agency also has a dedicated web design and development team in house.
The Miami Beach based agency's individual marketing services such as SEO has already generated a tremendous amount of traffic for online businesses by helping them rank better for target keywords and increased their online return on investment. As part of the general internet marketing process, websites are modified to look exactly the same on every computer (W3 Validated), accessible to handicapped individuals, and are cross browser compatible. Karma Snack's unique website architectural structure allows website to rank faster in search engines and drive in more targeted traffic. Combining custom site structure with custom funneling design produces a much higher conversion rate of visitor to lead ratio when compared to the template driven practices many SEO companies use.
Karma Snack has also put together a unique spin on web marketing, which has catapulted their clients' websites into more profitable online vehicles. The agency has designed websites of all kinds from e-commerce websites for shoes, Italian restaurants, online education portals, commercial loans, mixed martial arts and more. Most businesses recognize they need a professional online presence in order to compete locally as well as globally in the modern business world. The agency has recognized and responded to this new demand by designing a structural and profitable online marketing strategy that utilizes the new Karma Blueprints as the beginning step to a proper campaign.
Karma Snack has already changed Miami's attitude towards marketing. They've helped companies go from non-traceable traditional mediums such as radio, television and print to more accountable marketing initiatives based on strict data, leads, sales, accountability, and measurability.
Karma Snack has a great track record of using social media to generate buzz and excitement for their clients. In the past, the agency has used several forms of marketing such as guerrilla marketing, word of mouth, and viral SEO marketing to achieve results for their customers. With the more recent advancements made with Web 2.0 and other social media platforms, clients can see results faster, and measure their ROI with clarity in contrast to traditional mediums such as television, radio, and print. An integrated online marketing strategy with advanced website SEO has now replaced more established forms of marketing according to the latest studies.
The social media agency takes branding very seriously. Karma Snack recognizes' a company's brand is everything, and all marketing initiatives have to be in sync with a company's mission statement and most importantly the brand's values. Karma Snack recognizes that each brand's goals are different as well, which is why each initiative's digital marketing starting point is installed independently from one another.
Karma Snack categorizes websites into four distinct types: e-commerce, lead generation, branding, and informational websites. Karma Snack then customizes each client's marketing campaign around the specific initiatives and goals set previously during the market research phase.
E-Commerce websites are sites in which the main purpose of a visitor is to purchase directly. Karma Snack uses historical data to predict trends in client's niches and analyze the strengths and weaknesses in the competition's current marketing strategy. Karma Snack delivers weekly reports to clients, monthly activity reports, and quarterly goals and strategies for all initiatives.
The agency's lead generation based websites have the unique ability to turn targeted traffic into high quality leads that easily convert to sales. The uniqueness of Karma Snack's blueprints for lead generation rely in the advanced methods of analytical measurement, which has resulted in businesses averaging conversion rates between 17 and 35%. The agency analyzes the incoming data to ensure the quality of the lead rather than the volume is the focus of the campaign. This testing and re-testing process is repeated throughout the campaign as the lead filter is refined continuously for the life of the initiative.
Karma Snack's branding websites are marketed with the goal of drawing more customers, increasing brand awareness and increasing brand equity. Social media plays a huge role in a brand's presence in the current online environment, but is mis-managed all too often. Karma Snack controls each brand's messaging throughout all major social media platforms as well as emerging platforms and consults with company management for a unified message across the board. The agency also utilizes web 2.0 platforms to increase a brand's search engine rankings, market share and overall brand equity.
Informative websites are marketed using an advanced analytical process, which is designed to generate revenue across many industries. Informative websites have more unique opportunities to create revenue not only from banner ads, contextual ads, and other traditional web marketing techniques, but can use more permission-based initiatives, which result in better brand loyalty and trust.
The advantage of the new Karma Blueprints is the predictive analysis technology which aids business owners by giving them data, which dictates how traffic from a lead generation form or an e-commerce sale will take place within a specific demographic. Businesses benefit from an in-house project management system called "The Snackboard", which they gain access to when they begin their campaigns. The Snackboard and weekly marketing meeting with Karma Snack's client relationship director allows for complete transparency and accountability of the marketing process.
Karma Snack's marketing team has over 20 years of combined experience and continues to achieve faster results for businesses, by focusing on business intelligence, data analysis and strong communication. Karma Snack's team is located in Arizona, Boca Raton, Broward, and Miami Florida, and continues to reach into Latin America following the success of their impact in Miami. Business owners can contact a marketing consultant to get their Karma Blueprint for their online business and start generating faster ROI from their website by visiting http://www.KarmaSnack.com, or calling Karma Snack direct at (541) 805-2762 or (305) 767-3630.
###