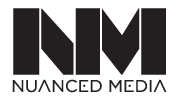 Tucson, AZ (PRWEB) February 19, 2013
Nuanced Media has been adding their information to the following directories: Alike, Switchboard, and Yahoo.
Business management, in today's society, compromises of store management and online presence. With millions of users every day, the internet has turned from a fad into a necessity. Each of these directories allows the companies information to be easily accessible.
Businesses all over the world can spread their brand while targeting potential consumers. An important factor for customers is their ability to easily find the product or service they are searching for.
The fastest way to promote a company, while also increasing both SEO and revenue, is to advertise a company through online directories.
411 has a unique and overall different layout than most directories. 411 lays out the information on the left while the map of the business (powered by Bing) is on the right. They highlight the store hours and also include the different social media outlets of the company. Any coupon the company may offer is featured under their name title.
Chamber of commerce powered by Yellow pages and Super pages, highlights the hours of operation and the company's "about us". These are arguably the two most important factors for any consumer searching for a business. If the customer cannot figure out what the company's edge is it does not matter about their website or photos. Those categories are listed further down on the page; optimizing the potential areas of interest for the customer.
Superpages dominates the forefront of directories. Aside from their award winning Smartphone application and 53k Facebook 'likes', Superpages promotes Nuanced Media to millions of consumers looking for valuable local businesses. Users can quickly and efficiently locate businesses in the area. For example, if a person is searching for a hotel in Tucson, Superpages will send back hundreds of hotels in the area with reviews, their webpage, and a button to call.
About Nuanced Media
Nuanced Media is a full service Tucson web design and Tucson marketing firm. They can be found at 301 N Norton Ave. Tucson, Arizona 85719 and can be reached at 520.261.7764