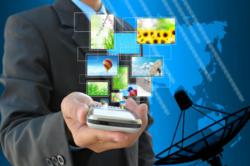 Many advertising agencies have now included cell advertisements into existing promotional activities.
Houston, Texas (PRWEB) December 27, 2012
MarketersBlackBook.com has released a new marketing with mobile guide online. This overview of how to use mobile to market products and services is designed for businesses and entrepreneurs. This published guide is designed to provide the starting point for small and large companies that are seeking ways to grow online revenue using alternative strategies. This new guide can be accessed at http://marketersblackbook.com/mobile/why-mobile-is-the-next-big-thing-for-internet-marketing.
According to telecom data, there are now over 300 million cell phone subscribers in the United States. Many advertising agencies have now included cell advertisements into existing promotional activities. The number of cell phone subscribers grows annually and companies that can tap into these users could find new ways to increase company revenue.
The new guide published online provides more than one strategy to incorporate mobile into a promotional plan. By combining social media with mobile strategies, a source of secondary income could be created for companies according to the guide. Apart from online advertising methods, the mobile industry provides additional ways to promote a product or service for little to no cost. This information could be useful to companies trying to reduce costs for promoting new services or products to consumers.
The guide now available represents one way that the MarketersBlackBook.com website is using to help businesses boost alternative revenue methods. Daily articles and information is now published online that can be accessed from any Internet connected device. This information now provides a basic introduction to different strategies that can be used to grow a brand or enhance a current promotional effort online.
A meetup group has been established by this company to provide an alternative to website training. This expert group now has hundreds of members that receive immediate access to information that is not readily available from outside of this group. Information can now be shared with all members to help increase the overall success of each company or entrepreneur. This new meetup group can be accessed at http://www.meetup.com/Internet-and-Direct-Response-Marketing-Group.
About Marketer's Black Book
Marketer's Black Book is one of few companies online that offer business training and Internet business growth strategies online. This 24-month old company is now one of the leading resources available online to learn online marketing concepts for business owners and entrepreneurs. The addition in 2012 of live event training has helped the Marketer's Black Book company to bring training to companies in person that offers a comprehensive 3-day learning session. The success of these live events and private consulting have helped this company expand its amount of services available.