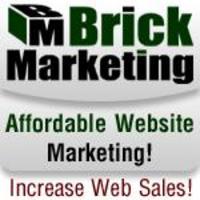 Boston, MA (PRWEB) January 9, 2008
Brick Marketing, a prestigious and well respected website marketing firm with over ten years of experience helping clients, is very proud to announce new resources and definitions sections on their website. The purpose of the new content is to define search engine optimization terms in plain language so that current and prospective clients can gain a better understanding of what Internet marketing terms mean and how they achieve results.
Founded and managed by online marketing expert Nick Stamoulis, Brick Marketing provides the full spectrum of website marketing services to their clients and the new resources and definitions on the site are part of their ongoing efforts to provide the most comprehensive customer support in the industry. Frustrated by Internet marketing sites that convey how important these marketing strategies are but fail to explain what they are and how they work, Brick Marketing decided to add definitions to his site so that web users have a resource that explains these terms simply and effectively.
Brick Marketing President, Nick Stamoulis added, "My clients read and hear about these terms and how important they are to their online success and I explain them in detail but unless they have a point of reference, they can't retain it all. We developed definitions that provide context so that anyone can understand how these strategies work and why they're crucial to success. Now when I use a terms like SEO or social marketing, potential clients have a much better idea of how valuable their input is to the success of the project."
A sample of the website marketing definitions provided by the site include:

Definitions to these terms and many more can be found at http://www.BrickMarketing.com. Site visitors can bookmark the site for future reference and check back often for new definitions. Web users can also visit the sites in the firm's extensive blog network to ask questions about these terms, post comments, and interact with members of the Brick Marketing blog community.
MEDIA CONTACT:
Nick Stamoulis
781-223-3651
Brick Marketing
nick @ brickmarketing.com
# # #