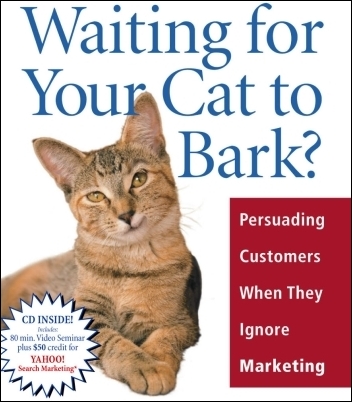 Waiting for Your Cat to Bark?
Nashville, TN (PRWEB) June 22, 2006
Bryan and Jeff Eisenberg, inventors of Persuasion Architecture and founders of FutureNow, Inc., a leading Internet optimization firm, just published the follow-up to their New York Times and Wall Street Journal best-selling marketing book, "Call to Action." The book, entitled, "Waiting for Your Cat to Bark?" explains that it's the splintering of the media and the resulting abundance of choices that are causing the decline in the power of traditional marketing.
The fact that mass marketing isn't nearly as effective as it once was is no secret. Just open up the business pages these days and you'll likely find something on the subject. Or ask any company spending hundreds of thousands of dollars on traditional media trying to get the same return they used to. They'll tell you tons of money and a bit of time aren't the foolproof ingredients they used to be. Reasons why the same old thing isn't working are harder to find. An acclaimed new book on marketing, the internet and people gives us some of those reasons.
In their new marketing book, "Waiting for Your Cat to Bark?" the brothers Eisenberg explain that today's exponentially expanding number of media outlets allow people vastly more individuality in their choice of what to absorb. The Eisenbergs say that what is emerging is a "personal experience" economy.
"To everyone's disappointment, emerging media are shattering behaviorist marketing tenets," says Bryan Eisenberg. "Businesses are not in control of the strings; they can command neither desire nor response. Customers now have access to an unprecedented amount of information and can communicate anytime and place they please. As media fragments, so does the 'mass' in mass marketing. The window that emerging media has opened for us reveals a personal experience economy, in which customers are in control. Brand is defined in customers' minds by their personal experiences with a particular product."
Principals of Future Now, Inc., Bryan and Jeffrey Eisenberg help companies maximize results by incorporating expert persuasion techniques into website design as well as email marketing, development, and implementation. Co-authors of the New York Times and Wall Street Journal bestseller "Call to Action: Secret Formulas to Improve Online Results," the Eisenbergs developed the patent-pending Persuasion Architecture marketing framework at the heart of "Waiting for Your Cat to Bark?" Visit http://www.cattobark.com for more information.
Contact
Michael Drew
512-858-0040
# # #