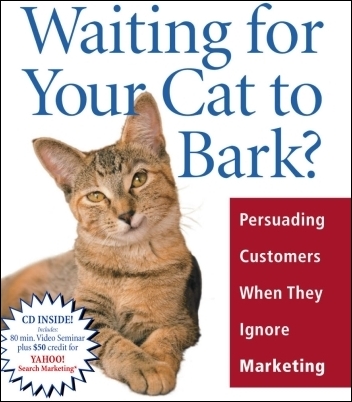 Call to Action: Secret Formulas to Improve Online Results
Nashville, TN (PRWEB) July 5, 2006
According to Bryan and Jeff Eisenberg, inventors of Persuasion Architecture and authors of the new book, "Waiting for Your Cat to Bark?," insuring the consistency of persuasive efforts across the range of media is a vital step in achieving business goals while still reinforcing the brand in the process. To the Eisenbergs, the various channels companies use to interact with customers should be considered responsible for extending that company's brand qualities.
They pose an example that reveals some of the complexity today's persuaders face:
"Lisa receives an Eddie Bauer catalog by snail mail. She flips through it, sees a piece of luggage she would like, double-checks price and availability online, and then decides to purchase the luggage on her next trip to the mall. A good or bad experience with any one or more of these channels—the catalog, the Web site or the store—will affect Lisa's perception of the business as well as the channel."
The Eisenbergs go on to say, "Segregating channel responsibility increases the chances for inconsistencies in presentation, messaging, brand voice and even offer details across the channels."
Things only get worse when channels within a company have to compete against each other. From the customer's point of view, multi-channel experiences must be seamless.
Rebecca Lieb, Executive Editor of The ClickZ Network, says of "Waiting for Your Cat to Bark?," "Consumers have been turning away from old media channels and even most methods of advertising to embrace new media. The Eisenbergs have developed a proven methodology for selling in this new environment where the old marketing rules no longer apply. This book will change how you think about marketing. It may even change how you think."
Principals of Future Now, Inc., Bryan and Jeffrey Eisenberg help companies maximize results by incorporating expert persuasion techniques into website design as well as email marketing, development, and implementation. Co-authors of the New York Times and Wall Street Journal bestseller "Call to Action: Secret Formulas to Improve Online Results," the Eisenbergs developed the patent-pending Persuasion Architecture marketing framework at the heart of "Waiting for Your Cat to Bark?"
Contact:
Michael Drew
512-858-0040
# # #