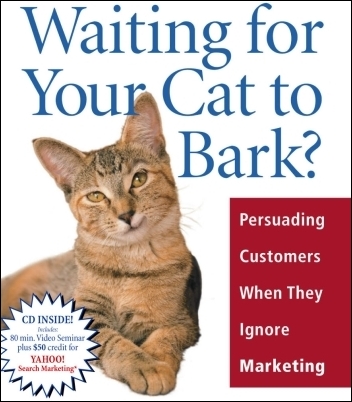 Call to Action: Secret Formulas to Improve Online Results
Nashville, TN (PRWEB) June 20, 2006
Bryan and Jeff Eisenberg, inventors of Persuasion Architecture and founders of Future Now, Inc., just published the follow-up to their New York Times and Wall Street Journal bestseller, "Call to Action." Their latest marketing book "Waiting for Your Cat to Bark?" describes a drastically different business environment than just a few years ago. This new environment has created a marketplace where branding is now more about what you do than what you say.
The fact that mass marketing isn't nearly as effective as it once was is no secret. It's a hot topic in the business pages, as companies spending huge sums on traditional media try to get the same return they used to, and fail. Evidently, a lot of money and some time aren't the foolproof ingredients they used to be. Reasons why the same old things aren't working are harder to find. This acclaimed new book on marketing, the Internet and people gives us some of those reasons.
"The need to establish and sustain name recognition and associative benefits will always be a part of the competent marketer's stock and trade. However, the complex and interconnected relationships between emerging media they now make available mean that name recognition and associations alone are insufficient. Increasingly, customers are associating brand not with a message but with their entire experiences surrounding the product or service."
Principals of Future Now, Inc., Bryan and Jeffrey Eisenberg help companies maximize results by incorporating expert persuasion techniques into website design as well as email marketing, development, and implementation. Co-authors of the New York Times and Wall Street Journal bestseller "Call to Action: Secret Formulas to Improve Online Results," the Eisenbergs developed the patent-pending Persuasion Architecture marketing framework at the heart of "Waiting for Your Cat to Bark?" Visit http://www.cattobark.com for more information.
Contact:
Michael Drew
512-858-0040
# # #