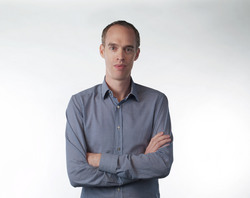 James is all about creativity and innovation in any channel, but what we particularly like about him is his digital thinking. His reputation in this space precedes him. I'm thrilled he's joining us.
New York, NY (Vocus) October 28, 2010
David Eastman, JWT North America CEO and Worldwide Digital Director, today announced the addition of James Cooper to the newly created role of Chief Creative Innovation Officer of JWT New York. Cooper, who joins JWT from Saatchi & Saatchi New York, will oversee the agency's creative in the digital space and further expand JWT's footprint in this area. Cooper will report to Eastman until a Chief Creative Officer is named.
To further place clients at the center of the business, Eastman has named two Co-Presidents of Client Services: Beth-Waxman Arteta is being promoted from her role as Group Business Director on Microsoft and John Baker, is joining the agency from Iris Worldwide effective Nov. 1. These are newly created roles.
Cooper, who was most recently the Integrated Creative Director at Saatchi, was described by Campaign Magazine as "one of the brightest stars in digital advertising." At Saatchi, he led JCPenney's "Return to the Doghouse" and the "The Most Valuable Tweeter" campaign for Wheaties. Prior to that, the 15-year industry veteran helped Dare become the "Digital Agency of the Decade."
"James is all about creativity and innovation in any channel, but what we particularly like about him is his digital thinking. His reputation in this space precedes him. I'm thrilled he's joining us," said Eastman.
While at Dare, London, and before the term "crowdsourcing" was coined, Cooper worked with John Malkovich to write the first scene of a movie for Sony Vaio, and then asked an online community to write the next scenes. At Anomaly, he developed the Lauren Luke makeup brand, and YouTube phenomenon, from scratch. Before leaping into the interactive space, Cooper worked at Ogilvy & Mather and D'Arcy, which is now part of Leo Burnett, in the United Kingdom. Cooper has won more than 50 awards at all the major shows including Cannes, The One Show and D&AD. He has also served as a judge for those shows among others.
Waxman-Arteta, who was named one of Ad Age's "Women to Watch" earlier this year, has excelled on every account she has managed. Beth joined JWT in 2005 and has shepherded some of the most innovative campaigns in the industry including "Ford Bold Moves" which was JWT's earliest "Brand Journalism" success story and Adweek's digital campaign of the year.
Waxman-Arteta has deftly handled one of JWT's biggest clients, Microsoft. She helped pitch, win and grow the business. Along the way she launched Microsoft Office 2010 and took on the search category with Bing, which is now the No. 2 player in the category. Additionally, under her watch JWT's "Brand Journalism" efforts won a Titanium Lion at Cannes this year.
Before tackling Microsoft, Waxman-Arteta pitched and won Macy's. She developed the co-op star designer program during that pitch. It continues to be the center of the "Magic of Macy's" brand campaign. From there she developed what every retailer hopes for -- an evergreen holiday idea in "Believe." Her energy and passion for the brand's entertainment heritage resulted in the critically acclaimed new holiday TV classic "Yes, Virginia" which was extended into brand franchise opportunities including a children's book, a Thanksgiving Day parade balloon and other licensing opportunities. "Yes, Virginia" was also a winner at Cannes this year.
Baker is a respected interactive agency veteran who as Co-Managing Director at Iris built its digital practice from the ground up. He established the agency's management structure, set up the subsidiary P&L, recruited a full client services team and led the business to profitability. Under his watch, Iris won Hertz and the commercial piece of the Volkswagen business.
Baker, who has an outstanding reputation for client management, was promoted at the end of 2009 to oversee Iris' Americas' clients and offices. In that role, he led the Microsoft Xbox Kinnect social media launch at E3, and developed programs for Coty and Nautica. His extensive experience encompasses posts at OgilvyOne London, Organic and Modem Media. He is also a regular speaker at industry events and has served as a judge on numerous juries including Cannes.
"Beth and John are the perfect complement to one another in that each brings strong and unique skills that can help the other," said Eastman. "Together, they will be responsible for continuing to keep clients and their brands at the center of everything we do."
About JWT
JWT is the world's best-known marketing communications brand. Headquartered in New York, JWT is a true global network with more than 200 offices in over 90 countries employing nearly 10,000 marketing professionals.
JWT consistently ranks among the top agency networks in the world and continues its dominant presence in the industry by staying on the leading edge -- from producing the first-ever TV commercial in 1939 to developing award-winning branded content for brands such as Freixenet, Ford and HSBC.
JWT's pioneering spirit enables the agency to forge deep relationships with clients including Bayer, Bloomberg, Cadbury, Diageo, DTC, Ford, HSBC, Johnson & Johnson, Kellogg's, Kimberly-Clark, Kraft, Microsoft, Nestlé, Nokia, Rolex, Royal Caribbean, Schick, Shell, Unilever, Vodafone and many others. JWT's parent company is WPP (NASDAQ: WPPGY).
###