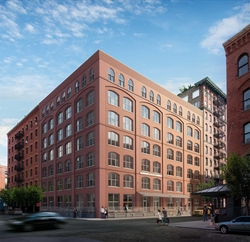 We're delighted to have been chosen to handle the exclusive sales of these extraordinary residential properties
New York, NY (PRWEB) August 11, 2008
The Marketing Directors, Inc. has been appointed marketing and exclusive sales agent for five new luxury residential buildings located throughout New York City.
The signature buildings include 254 Park Avenue South, 167 premium homes in a 14-story building rising in Manhattan's vibrant Flatiron neighborhood; The Fairchild, 21 exclusive residences housed in a distinctive nine-story building in TriBeCa; 34 Leonard, 16 loft-like homes located in an eight-story building in TriBeCa; Centria, 152 residences in a 34-story building situated adjacent to Rockefeller Center; and The Classic at Kew Gardens, 52 condominium homes located in this fashionable Queens neighborhood.
"We're delighted to have been chosen to handle the exclusive sales of these extraordinary residential properties," notes Jacqueline Urgo, President of The Marketing Directors, Inc.
"Today's real estate and economic climates require an even greater emphasis on conceiving and executing comprehensive marketing and sales programs that are innovative, creative and credible. We're confident that our experience in leading clients through similar market conditions will prove to be a tremendous asset as we execute these unique campaigns."
254 Park Avenue South is a newly renovated condominium complete with all the desired amenities and services of new construction, yet is located in the vibrant Flatiron neighborhood along Park Avenue South and 20th Street. The thoughtfully-designed residences feature sensational City views enhanced by oversized windows. Developed by Rosen Partners, LLC, the luxury building features studios-to-two-bedroom residences priced from $560,000. Amenities include 24-hour concierge, a fitness center, an exclusive "Park Lounge" featuring poker and pool tables, bar and social environment; all custom designed by Charles Allem.
Sales will begin later this year at The Fairchild, a new collection of 21 spectacular townhomes, penthouses and lofts -- many with private outdoor space -- ideally located at 415 Washington Street in TriBeCa. Developed by Atlantic Walk Vestry, the distinctive nine-story building features a traditional warm brick façade with oversized arched windows that reflect the industrial age of 19th century New York. Prices are expected to range from $1,965,000 to $8,995,000.
Several sales have already been recorded at 34 Leonard. Located on the corner of West Broadway and Leonard Street in TriBeCa, the new building from R Squared Real Estate Partners features one-to-four-bedroom homes offering from 1,541 to 3,086 square feet of living space. Prices range from $1,975,00 to 7,995,000. Amenities include a 24-hour Doorman, Personal Art Consultant, entrance gallery with original video art by Jennifer Steinkamp, Fitness Center, Pet Spa, climate controlled wine cellar and tasting room (300 wine bottle storage per home), resident storage, and a landscaped roof top terrace with a barbecue/prep bar, outdoor shower and sun area.
The Marketing Directors was engaged to sell a select group of homes at J.D. Carlisle Development's 152-home Centria, which is currently 90% sold. Located across from the Rockefeller Center promenade, the building features studios-to-two-bedroom homes that were designed as pied a terres for local and European buyers who wanted the convenience of the location in the heart of this prominent business district. Remaining residences are priced from $1,200,000. Amenities include a fitness center; conference room with video conferencing capabilities and fully- equipped Business Center; private dining room with adjacent catering kitchen; separately-ventilated Cigar Lounge; Residents Lounge overlooking Rockefeller Plaza with gracious seating area; and two intimate landscaped terraces.
Sales are underway at The Classic at Kew Gardens, a new luxury condominium being developed by the family-owned Kamali Organization. The six-story building perfectly blends old world charm with modern amenities due to a unique architectural design that combines four newly added floors with two existing levels that all pay homage to the English Colonial design commonly found in Kew Gardens. The one-to-three-bedroom homes feature from 574 to 1,385 square feet of living space at prices that begin in the mid-$300,000s. Amenities include a doorman, fitness center with state-of-the-art equipment, a children's playroom and a social lounge.
About The Marketing Directors
Founded in 1980 by Adrienne Albert, The Marketing Directors, Inc. specializes in the marketing and sales of new, high-end residential real estate developments. The Manhattan-based firm has served clients on a range of projects, from single-family homes to high-density, multi-use developments in locations across the country. Currently, The Marketing Directors employs in excess of 170 employees and boasts more than $20 billion in real estate sales. The firm is part of the Ryness family of companies, which has earned a stellar reputation since 1975 during the planning, designing, marketing and sales of more than 175,000 homes in over 2,000 communities.
For more information on The Marketing Directors, call 212-826-8822 or visit http://www.themarketingdirectorsinc.com
###