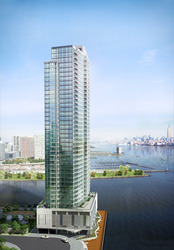 We are very proud to be part of the marketing and sales/leasing of these five distinctly unique communities and are delighted to be introducing these rare opportunities to the public
New York, NY (PRWEB) October 23, 2008
The Marketing Directors, Inc. has been appointed marketing and exclusive sales/leasing agent for five new luxury residential properties in New Jersey.
The impressive new developments include Crystal Point, 269 condominium residences in a 42-story building located along Jersey City's celebrated waterfront; The Sheffield, 116 loft-like condominium homes in a four-story building in the Bergen County township of Paramus; Vesta Hoboken, a sophisticated collection of just 16 condominium homes rising in this chic Hudson County town; Pier Village Phase II, 216 luxury rental residences located in the oceanfront community in Long Branch; and 140 Mayhill, 158 rental residences rising in Saddle Brook.
"We are very proud to be part of the marketing and sales/leasing of these five distinctly unique communities and are delighted to be introducing these rare opportunities to the public," notes Jacqueline Urgo, President of The Marketing Directors.
"As we forge ahead during these challenging times, our unparalleled experience in leading clients through similar market conditions will prove to be an invaluable asset that will have a profound effect on the success of the marketing, sales and leasing of these residential properties."
Sales will open this fall for Crystal Point, a striking new 42-story building situated a mere 25 feet from the Hudson River on the final piece of developable waterfront land in Jersey City that directly faces Manhattan. Developed by Fisher Development Associates and designed by noted architectural firm Gruzen Samton, LLP, Crystal Point will feature 269 homes - each with a water view. The stunning new landmark boasts a distinctive, crystalline-style glass exterior designed to maximize the building's riverfront setting, and will feature magnificently-appointed one-, two-and three-bedroom home designs, an extensive offering of resort-like amenities and services and world-class views to create an unrivaled upscale living experience.
Sales are currently underway at The Sheffield, a four-story condominium building from developer, The S. Hekemiam Group located in Bergen County's Paramus Township. The one- and two-bedroom luxury residences boast floor-to-ceiling windows, beech or bamboo wood floors, loft-inspired nine-foot ceilings, oversized walk-in closets and spacious balconies. Amenities include a 24-hour concierge, Wi-Fi lounge and screening room, yoga and meditation studio, outdoor pool and hot tub, fitness center, business center and private enclosed parking. Residences are priced from $325,000.
Buyers are eagerly awaiting the fall opening of Vesta Hoboken, an intimate new collection of just 16 impressive condominium and duplex penthouse residences found at 609 Observer Highway on Hoboken's burgeoning south side. The mix of generous two-bedroom plans and three- and four-bedroom penthouse duplexes -- some with outdoor space and fireplaces -- in the attractive six-story corner building will range in price from $690,000 to $1,470,000. Amenities will include a private gym, lounge, on-site parking and Video Doorman Technology - the first for a Hoboken residence. Vesta Hoboken is being developed by The Vesta Group, in joint venture with JESAN LLC.
Following their successful lease-up of the initial phase, The Marketing Directors has been re-engaged to lease the second phase of Applied Development Company's Pier Village, the award-winning, mixed-use community located along the oceanfront in Long Branch. The spectacular new offering features 216 luxury rentals - more than 75 of which are already rented at monthly rents starting from the $1,400s for studios-to-three-bedroom homes. The new phase also includes such private amenities as an outdoor pool and billiards lounge with flat screen TVs - as well as a 24-room boutique hotel with public lounge and 1,800 square feet of retail space. The new activity joins Pier Village's initial phase of 320 residences and 100,000 square feet of boutique shops and restaurants that are fully leased and occupied.
140 Mayhill, a new community of 158 rental residences nestled in the suburban Bergen County Township of Saddle Brook, will start leasing this fall. The well- conceived one- and two-bedroom homes will feature distinctive nine- to-11-foot ceilings, hardwood flooring, high-end appointments throughout and private balconies or patios. Developed by Saddle Brook Mayhill Associates, an affiliate of Value Companies, the community will also include private, attached covered parking, a clubhouse with fitness center, a club room and a dog walk, as well as 24-hour on-site maintenance service.
About The Marketing Directors:
The Marketing Directors is a full service marketing and sales/rental organization specializing in new homes and recognized as a national leader in high density residential development serving many of the industry's most prominent developers across the United States and Canada since 1980. The company is led by founder Adrienne Albert, who will be inducted into the NAHB Hall of Fame as a Legend in Residential Marketing in 2009. David Tufts leads The Marketing Directors, SE formed in 2007. Jacqueline Urgo leads the NE operation. The Marketing Directors presently represents condominium developers in markets such as New York, New Jersey, Connecticut, Georgia, Florida, Alabama and North Carolina. The company has conducted over $60 billion in home sales.
For more information on The Marketing Directors, call 212-826-8822 or visit http://www.themarketingdirectorsinc.com
###