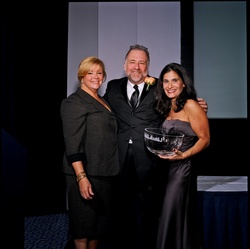 This is a tremendous honor and we couldn't be more proud of our colleague and friend
New York, NY (PRWEB) December 1, 2008
The Marketing Directors' Jacqueline Urgo has been named the 2008 Person of the Year by The Associated Builders and Owners of Greater New York (ABO).
Ms. Urgo was awarded the prestigious honor during ABO's 98th annual Anniversary Dinner-Dance which was held on Thursday, November 6th at the New York Marriot Marquis Hotel in New York City.
"Each year at the Anniversary Dinner-Dance, ABO honors companies and individuals that have made a significant impact on the real estate industry, and this year we are celebrating the achievements of industry veteran, Jacqueline Urgo," said Nicholas LaPorte, Executive Director of The Associated Builders and Owners of Greater New York. "Ms. Urgo's vast experience and impressive track record for successfully marketing some of New York City's most prominent residential properties -- particularly through these tumultuous times -- speaks volumes about her abilities and sound leadership qualities, and we are pleased to have chosen her for this award."
Ms. Urgo joined the Marketing Directors in 1986 as a Project Manager and since then has moved up the ranks to her present position of President where she oversees the company's Northeast Division. In her current role, Ms. Urgo is responsible for the development and implementation of comprehensive marketing programs for a number of nationally recognized residential developers. She also serves as the management liaison with clients, establishing marketing strategies and plans, budgets and pricing as well as executing all ancillary programs including advertising and public relations.
"This is a tremendous honor and we couldn't be more proud of our colleague and friend," said Adrienne Albert, Founder of The Marketing Directors, Inc. "Jackie is a consummate professional whose commitment and devotion to this industry and the success of this firm has led her to be one of The Marketing Directors' greatest assets."
The ABO Person of the Year designation continues what has been an award-winning year for The Marketing Directors. The CNBC Americas Property Awards 2008, in association with The New York Times, awarded the company with a Best Property Marketing USA award for its successful marketing and sales efforts on Platinum, a striking 43-story condominium building located in the heart of Manhattan's Times Square. In addition, it was recently announced that company founder Adrienne Albert will be inducted into the NAHB Hall of Fame as a Legend in Residential Marketing for 2009 - the first woman to receive the illustrious award.
About The ABO
The Associated Builders and Owners of Greater New York has been working to create a better business environment for the real estate industry in New York City since 1910. ABO is an important resource for its members, providing critical information and guidance on all matters impacting the real estate industry, as well as providing an array of programs designed to help owners maximize their profitability.
About The Marketing Directors
The Marketing Directors is a full service marketing and sales/rental organization specializing in new homes and recognized as a national leader in high density residential development serving many of the industry's most prominent developers across the United States and Canada since 1980. The company is led by founder Adrienne Albert, who will be inducted into the NAHB Hall of Fame as a Legend in Residential Marketing in 2009. David Tufts leads The Marketing Directors, SE formed in 2007. Jacqueline Urgo leads the NE operation. The Marketing Directors presently represents condominium developers in markets such as New York, New Jersey, Connecticut, Georgia, Florida, Alabama and North Carolina. The company has conducted over $60 billion in home sales.
For more information on The Marketing Directors, call 212-826-8822 or visit http://www.themarketingdirectorsinc.com
###