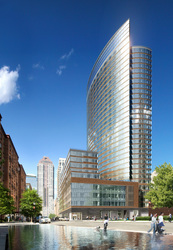 It is a great privilege to be recognized by our peers for work we consider to be more of a passion than a job
New York, NY (PRWEB) January 2, 2008
The Marketing Directors, Inc. has earned an impressive 14 awards from the National Association of Homebuilders (NAHB) recognizing the company's outstanding achievements in the residential real estate industry.
The awards were announced by the NAHB's National Association of Sales and Marketing Council (NSMC) which oversees The Nationals SM, the nation's largest and most prestigious awards competition for new home sales and marketing professionals.
Award winners were selected from a field of nearly 1,400 entries by a panel of industry professionals from across the country.
"It is a great privilege to be recognized by our peers for work we consider to be more of a passion than a job," says Adrienne Albert, Founder and National Director of The Marketing Directors, Inc., a Manhattan-based firm that specializes in the marketing and sales of new-construction, high-end residential real estate developments throughout the country. "These awards are strong testaments to the creativity and commitment exhibited by each member of The Marketing Directors team."
The Marketing Directors received Silver Awards for Best Brochure for a Community Priced Over $1 Million for Visionaire, a "Green" residential building rising in Battery Park City; Best Special Promotions for Metro Pros, a unique brokers-only website providing exclusive access to information; Best Website for The Setai, a collection of luxury condominiums in downtown Manhattan; Rookie Sales Person of the Year for Toni Albanese from Visionaire; Sales Person of the Year for Vicki Bagley from 45 Park Avenue, a 22-story development featuring 105 condominium homes; Sales Team of the Year for the Visionaire Sales Team; Sales Manager of the Year for Martin Brady and Marketing Director of the Year for Susanne Day.
The Marketing Directors also won Regional awards in the categories of Best Graphic Continuity for Platinum, a luxury condominium building in the heart of Times Square; Best Brochure for a Community Priced $650,000 to $1 Million for Trump Plaza Jersey City, two signature 55- and 50-story towers offering more than 900 condominiums in downtown Jersey City; Best Brochure for Visionaire; Best Direct Mail for Visionaire; Best Special Promotion for Metro Pros; and Best Interior Merchandising of a Model Priced $1 Million to $2 Million for Liberty Harbor, a 10,000-plus home urban development located on a 28-block site in Jersey City's historic downtown waterfront district.
The Silver Awards recipients are also in the running for Gold Awards, which will be announced at the 27th annual Nationals Gala, to be held on February 13 in Orlando, Florida.
The NationalsSM - which originated as the MIRM Awards in 1982 - recognizes superior new home sales and marketing achievements. The nation's largest competition, The Nationals'SM awards ceremony is held each year as part of the National Association of Home Builders (NAHB) annual International Builders' Show (IBS).
About The Marketing Directors:
Founded in 1980 by Adrienne Albert, The Marketing Directors, Inc. specializes in the marketing and sales of new, high-end residential real estate developments. The Manhattan-based firm has served clients on a range of projects, from single-family homes to high-density, multi-use developments in locations across the country, including New York, Atlanta, Orlando, Seattle and Las Vegas. Currently, The Marketing Directors employs in excess of 170 employees and boasts more than $20 billion in real estate sales. The firm is part of the http://www.themarketingdirectorsinc.com Ryness] family of companies, which has earned a stellar reputation since 1975 during the planning, designing, marketing and sales of more than 175,000 homes in over 2,000 communities.
For more information on The Marketing Directors, call 212-826-8822 or visit http://www.themarketingdirectorsinc.com
Contact:
George M. Cahn
President
CAHN Communications
201-876-3100
###