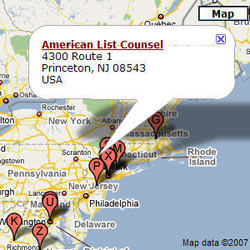 This new directory will make it easy for you to find the vendors you need for your next marketing campaign
Hanover, NH (PRWEB) September 19, 2007
NextMark, Inc., a leading provider of direct marketing tools and resources, today unveiled a new directory of marketing service providers on its website at http://directory.nextmark.com.
"This new directory will make it easy for you to find the vendors you need for your next marketing campaign," commented Joseph Pych, founder and president of NextMark.
Users can search for marketing service providers by name, by services provided, or by market specialty. Vendors matching the user's criteria are displayed on a Google map and also in an alphabetical listing. Users can click the map or the listing to get more information about the selected vendor.
The directory is organized into more than 200 sub-directories, such as:

Directory of Direct Mail List Brokerage Service Providers
Directory of US National Change of Address (NCOA) Processing Service Providers
Directory of Marketing Service Providers that Specialize in Reaching Democrat Voters
Directory of Marketing Service Providers that Specialize in Reaching Soldiers and Prospects - Military Recruitment
Using the directory is free. Getting listed in the directory is also free. Marketing service providers seeking a listing can get it on NextMark's website at http://www.nextmark.com/directory.
About NextMark, Inc.
NextMark provides tools and resources that help organizations to buy mailing lists, sell mailing lists, and learn about mailing lists. NextMark currently indexes and tracks more than 70,000 mailing lists from 700+ sources. Its solutions have been proven through more than 3,500,000 mailing list searches and 70,000 direct marketing campaigns for thousands of catalog merchants, retailers, fundraisers, politicians, banks, telcos, entertainers, broadcasters, publishers, and other organizations that reach their market directly. NextMark is a privately held corporation based in Hanover, New Hampshire USA and on the web at http://www.NextMark.com.
# # #