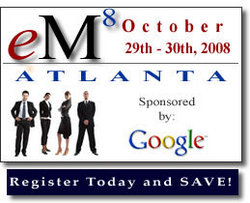 This is the number one event in the Internet marketing arena, we are excited about this years' line up and expect a sell-out.
Providence, RI (PRWEB) June 24, 2008
The eMarketing Association (eMA) today announced that Carol Kruse, Vice President of Interactive Marketing for The Coca Cola Company, will present the day one keynote, at the annual eM8 eMarketing Conference in Atlanta October 29 and 30, 2008.
Thirty-four other industry leaders will provide presentations covering all aspects of eMarketing including Murray Gaylord of the New York Times; Kevin Doohan, Director of Interactive Marketing & CRM ConAgra Foods; Maureen Schumacher, director Google; Kathleen Onieal, Vice President, Global Leader Marketing Innovations, Merck & Company; David Wolf, President and Founder, Syntryx; Andrew Hally,Vice President, Segment Management, Unica Corporation; Simms Jenkins, CEO BrightWave Marketing; Marc Johnson, Chief Marketing Officer, Hitwise; Howard Kogan, President, Molecular; Kevin Lee, Executive Chairman and Co-Founder, Didit; Abu Noaman,CEO, Elliance, Inc.; Bill Nussey, President and Chief Executive Officer, Silverpop; Alan Osetek, Executive Vice President, Sales & Marketing, Visual IQ, Inc.; Thomas O'Sullivan, Director of Interactive Marketing and Technology, Coldwell Banker Commercial; Juan Fernando Santos, Chief Creative Officer, Studiocom; and Joe Schab, CEO, LBI. Speakers are being added weekly and the agenda is up at the eMA website, eMarketingAssociation.com.
The eM8 Conference is now in it's 8th year, and provides the marketing community with a forum for the exchange of new ideas, processes, and techniques for more effective Internet marketing. Sponsored by Google, and other leading companies, the event draws the top leaders in the industry. With a full agenda of forums, panels and keynotes, the event is the number one networking venue for advanced marketers.
The event is open to members and non-members of the eMarketing Association, and is slated to be a sell-out. Early registration is at: Marketing Conference Registration.
Conference and Expo Information is at: Marketing Conference Information.
Robert Fleming, President and CEO of the eMarketing Association, said, "This is the number one event in the Internet marketing arena, we are excited about this years' line up and expect a sell-out."
The eMarketing Association (eMA) is the world's largest association of eMarketing professionals. Members include governments, companies, professionals and students involved with the eMarketing arena. The eMA provides marketing resources, services, research, certifications, educational programs and events to its members and the marketing community. The eMA works with a number of organizations, companies and governments on issues related to e-Commerce, multi-channel marketing and legislative issues. The eMA has members in over 50 countries around the world, and sponsors or manages over 30 events a year. More than 9,000 marketers have enrolled in eMA online courses and thousands of eMarketing professionals and students have achieved certification status.
Membership in the eMarketing Association, recognized worldwide, indicates a commitment to our profession as well as to professional development and achievement. eMA certifications are endorsed by governments, educational boards, colleges and universities, and provide marketers with a tangible credential for advancement in our field.
The eMA is committed to enriching the marketing community and its members through recognition, research, advocacy, education and service. Information on this event and other eMA programs is at the eMA website.
###