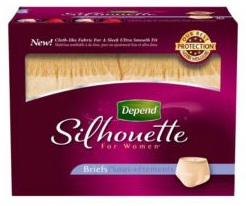 Baby boomers are the first tech savvy generation to need incontinence products, so buying online has become very popular
Ashton, MD (PRWEB) August 14, 2012
According to a recent article by The Wall Street Journal, the most important rule when marketing to baby boomers is "Don't remind them that they've aged." Which makes certain products, such as adult diapers and other incontinence supplies, hard to sell.
But with the oldest baby boomers turning 65 this year, advertisers are figuring out how. Everything from the incontinence products themselves, to the advertisements for them, to where and how they are sold is changing.
As for the incontinence products, they are looking more and more like regular underwear with separate styles for men and women. Also, you're probably not going to see the term "adult diaper" on any packaging. The products refer to themselves as briefs or underwear. Many come folded up in packs with transparent windows, just like regular underwear.
As for the advertising, gone are the grandmotherly models like June Allyson—former spokeswoman for popular incontinence manufacturer Depend. Now companies use models in their early 50s or, better yet, famous football players. Currently, Depend is running an ad where a host asks NFL players to try on their product for charity. The players agree, showing that the Depend briefs are undetectable despite their tight football pants. A similar commercial for Depend Silhouette Briefs for Women features actress Lisa Rinna wearing Depends under a tight dress.
Now we reach the buying stage. More and more baby boomers are turning to the internet to buy incontinence products. It's discreet and many websites offer AutoShip plans, where the products are mailed to their house at regular intervals based on each wearer's needs. "We started NationalIncontinence.com back in '08," says nurse practitioner Renee Mercer, "and it's quickly become one of our fastest growing sites. Baby boomers are the first tech savvy generation to need incontinence products, so buying online has become very popular."
To better appeal to boomers, NationalIncontinence.com recently underwent a major website relaunch, making their site more interactive. They added videos, user reviews, social media links and more. "We've found that user reviews make a huge difference in what people choose to buy," says Renee. "They don't care what we, the sellers, think they should buy. They want to know what their friends think." Next, National Incontinence intends to start a weekly blog that readers will be able to comment on and discuss.
As for brick and mortar stores, companies are starting to put incontinence products in with other personal care items such as shampoo and deodorant. "This way it appears that it's all about your hygiene routine," says Kimberly Clark's integrated marketing planning director Deborah Hannah. Time will tell whether internet or brick and mortar stores prove more popular. Either way, the marketing of elder care products has changed completely and will only continue to change as baby boomers age.
About NationalIncontinence.com
National Incontinence provides products throughout the United States for people of all ages with bladder control problems. They have helped more than 100,000 patients with bladder issues. Their pediatric division, the Bedwetting Store, is now the largest distributor of pediatric enuresis products in the United States. National Incontinence is proud to serve the millions of families who seek information and practical solutions to bladder control problems and want the best products at the lowest prices.