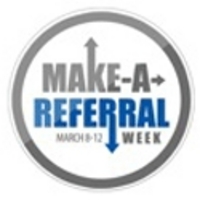 "People asked me all year long to host this event once again - people love it," John Jantsch, creator of Make a Referral Week.
Kansas City, MO (PRWEB) March 1, 2010
Following on the success of last year's Make A Referral Week, John Jantsch, author of Duct Tape Marketing, is calling out to small businesses once again to stimulate the economy and create jobs through the act of referrals. During the week of March 8-12, small businesses are being challenged to make 1000 referred leads to 1000 deserving small businesses in an effort to highlight the power of referrals for small business.
Individuals around the globe are invited to make at least one referral to a small business at http://www.makeareferralweek.com and share the referral details, including information on why they referred a particular business.
The weeklong virtual event also features guest contributors and panelists that will discuss how small business owners and other marketers can utilize the power of referral marketing.
Featured guest experts include David Meerman Scott, author of New Rules of Marketing and PR, Chris Brogan, author of Trust Agents, Guy Kawasaki, author of Reality Check, Rohit Bhargava author of Personality Not Included, Dan Schawbel author of Me2.0, Anita Campbell, publisher of Small Business Trends, Ann Handley, editor of Marketing Profs, Lisa Barrone, Outspoken Media, Scott Allen, author of the Virtual Handshake, John Jantsch, author of Duct Tape Marketing, Scott Ginsberg of Nametag TV, Janine Popick, CEO of Vertical Response, and Pam Slim, author Escape from Cubicle Nation.
The highlight of the education series is a live online panel discussion on March 10th at Noon CST featuring Ivan Misner, founder of BNI and author Masters of Networking, Bob Burg, author of Endless Referrals and the Go-Givers Sell More, Ben McConnell, author of Creating Customer Evangelists, and moderated by John Jantsch.
Through Make a Referral Week, small businesses have the opportunity to not only refer other businesses, but have their business listed as well. Hundreds of small business will receive added attention and daily events hosted on the site will offer tips and support from experts.
More information can be found here – Make a Referral Week
###