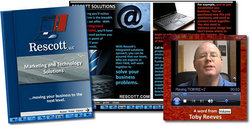 The Business Identity Package virtual book for $179 is a fantastic way to experience this effective new multimedia marketing tool.
Noblesville, IN (PRWEB) July 29, 2010
Video, music, flash animation, games, e-commerce, virtual tests and exams, feedback forms, editable content, live updates.... What marketing tool provides so much flexibility and power and can be sent to the end user's email inbox, on a flash drive for trade shows, or prominently displayed on a web site?
It's the Rescott virtual book, a very unique, powerful new multimedia solution that can bring a whole new brand awareness to potential and current clients while saving money on wasteful print products brochures, annual reports and sales flyers.
What is a Rescott virtual book]? Rescott virtual Books are a new multimedia publishing medium that allows a customer to distribute their organzation's information in a completely unique and engaging format. What they are not is an Adobe PDF document, which are often shown in portrait sized 8 ½ x 11, making the document difficult to read without scrolling or reducing print size. Plus, a PDF is very limited in the power provided to the end user.
Rescott virtual books are different, and they are not what you think of when you think "e-book". They look like a book, and are read in the natural way- up to down, left to right. A virtual book fits on a computer monitor and can be presented in a stand alone format as .EXE and .DNL self running books, or as web pages with no need for HTML, ASP or other programming knowledge. When a customer presents their digital web books as web pages, the end user can detach them and turn them into stand alone Rescott virtual books, forward the virtual book to another user by email, edit the contents, and print the virtual book.
Rescott can make virtual books come alive by embedding or streaming video, audio and flash in the virtual book. The virtual book can come alive as product demo or training videos with music, flash animations, online tests, and more.
Plus, a new technology available for the Rescott virtual book is called On Demand Data (ODD) technology. With ODD, virtual book end users get up to date information in their virtual book with a click of their UPDATE button. Imagine just having one virtual book distributed for annual and quarterly reports, sales incentive programs, anything that requires periodic or near- real time updates. Plus, we can personalize the virtual book for the end user (such as their name), to provide a little personal touch.
How does ODD technology work? Rescott stores the changeable data on their servers, and when data is updated such as in a company's annual report, Rescott pushes the data out so that all of the company's annual reports reflect the new information- there's no need to redistribute virtual books or print materials.
Normally, custom virtual books can run anywhere between $1000-$3000 depending on the customization and capabilities they build into them, and even at that price point, clients are still convinced that it's worth the money.
Toby Reeves, President of Rescott, stated in a recent product introduction, "We had a number of clients who just wanted a virtual book that told others about their business in a different way, but didn't want to pay thousands of dollars for a completely custom book. So, we created the Business Identity promotion just for those types of businesses."
What Rescott has done is create a promotion for an 8 page business identity virtual book that includes some of the capabilities of the more expensive creations but at a price point far lower than complete custom books- at just $179. At that price point, it gives the customer a chance to add an additional marketing tool for their business, and they can try out Rescott's new media talents without spending a lot of money.
Of course, Rescott can add additional features for a modest fee to help create a multimedia engagement with the end user. In fact, on their web site, there is a link to a virtual book they created titled "Great Ideas!" which has pages and pages highlighting the advanced capabilities of a virtual book, including interactivity, games, audio books, image editing on the fly, online tests and so on.
Rescott's web site is http://www.Rescott.com. Click on the Promo button in the center for more information on the $179 promotion, to view an actual Promo Sample, and securely order online.
About Rescott: Since 1996, Rescott LLC Marketing & Technology has provided leading edge new media technologies such as web based applications, SEO, link building, conversion rate optimization, Google Adwords, telemarketing lead generation, mobile applications, video over internet, and results-focused web site hosting.
Using these technologies in conjunction with other solutions they use, Rescott provides corporate image making and wealth building by helping clients double the number of qualified sales leads, reducing expenses by 10%, increasing brand loyalty & customer retention by up to 25%, and increase top line revenues by up to 5% annually.
###