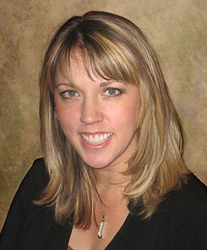 We believe that Julie's marketing talent, people skills and strong work ethic, backed by an excellent creative and marketing communications team, will enable her to aptly grow the firm to new levels of creative and financial success
San Jose, Calif. (PRWEB) April 29, 2009
DRB Partners, Inc. (DRB), a long-standing, top-ranked advertising, design and public relations firm based in Silicon Valley, announced today the appointment of Julie Oliveri to the position of agency president. Oliveri has been with the firm for eight years, most recently serving as vice president of business development and senior account manager. DRB Founder Ray Brown remains the senior partner and CEO.
Oliveri will continue in her role as an active account manager for DRB client SPX Service Solutions, a multi-divisional automotive aftermarket specialty tools and equipment company. She also will oversee activities on other client accounts as part of her responsibility for day-to-day operations. "We believe that Julie's marketing talent, people skills and strong work ethic, backed by an excellent creative and marketing communications team, will enable her to aptly grow the firm to new levels of creative and financial success," stated Brown.
Oliveri's career at DRB has included positions as media buyer, public relations manager, vice president of business development and senior account manager. She is a San Jose native and holds a Bachelor of Arts in Child and Human Psychology from San Jose State University.
About DRB Partners, Inc.
DRB serves a variety of Business-to-Business (B2B) and Business-to-Consumer (B2C) clients. The agency's clients are market leaders in various sectors, including semiconductors, hardware, software, peripherals, home entertainment, test & measurement, process control, telecommunications, automotive medical instrumentation, a variety of services industries, and community nonprofit organizations. Originally founded as Douglass, Rosewater & Brown in January, 1985, the name was changed to DRB Partners, Inc. in 1996 to reflect the diversification of the firm. DRB has steadily grown to become one of the top, highly respected marketing communications firms in California's Silicon Valley. For more information, visit http://www.drbpartners.com.
###