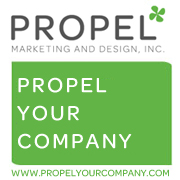 Our vision is to provide local small to medium sized business owners with cost effective, valuable solutions to compete in today's ever increasing viral marketplace
Boynton Beach, FL (PRWEB) September 20, 2012
Propel Marketing & Design, Inc., a South Florida based Marketing Agency, has announced their Fall 2012 Marketing Workshop Schedule.
"Our vision is to provide local small to medium sized business owners with cost effective, valuable solutions to compete in today's ever increasing viral marketplace," commented Darcy Sullivan, President of Propel Marketing & Design. "Whether it's training, mentoring, or carrying out the work, we are here to help!"
As the world of internet marketing continues to change, it's imperative for small business owners and entrepreneurs to stay on top of the latest in Internet Marketing, Social Media and Search Engine Optimization. These workshops provide participants with the tools they need to compete in today's online marketplace.
Propel Marketing & Design will offer the following Interactive Marketing Workshops:

Web Marketing for Small Business and Entrepreneurs
Internet Marketing Boot Camp
Social Media Strategy Workshop
Basics of WordPress
Search Engine Optimization: Be Seen, Rank Higher, and Sell More
Blog Like a Rockstar
Facebook for Small Businesses and Entrepreneurs
These workshops will offer intense, comprehensive, and fun material to participants, covering all the bases one needs to start up or take an internet business to the next level. They are designed for professionals looking to effectively leverage the latest digital communication technologies, applications and resources available online to improve their organization's reputation, interaction with potential customers, and drive more traffic to their websites. In addition to material covered at each event, attendees will leave with a workbook that accompanies the materials for the class.
Discounted early bird prices are available till September 30, 2012. To find out more information about the classes listed here, visit http://www.PropelYourCompany.com or call 800-943-2346.
About Propel Marketing & Design, Inc.
Propel Marketing & Design, Inc. is a full-service internet marketing agency, located in Boynton Beach, Florida, that specializes in SEO (Search Engine Optimization), social media, website design, email campaigns, search engine marketing, public relations, graphic design, and marketing workshops. Propel works with clients to create effective and unique marketing strategies to help raise their online profile and support their business objectives. For more information please visit http://www.propelyourcompany.com.