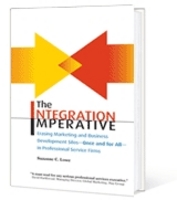 As Suzanne Lowe highlights, the PSF mindset is one of continuous mastery of your profession through talent development, skill development, and an awareness of best practices in your field.
Concord, Massachusetts (PRWEB) July 27, 2009
Expertise Marketing LLC and Professional Services Books announce the publication of The Integration Imperative: Erasing Marketing and Business Development Silos - Once and for All -- in Professional Service Firms by Suzanne C. Lowe. The book, like Lowe's Marketplace Masters: How Professional Service Firms Compete to Win (Praeger: 2004), provides new clarity on professional and business service firms' structural and cultural barriers to effective marketing and selling. It outlines a customizable framework of processes, skill sets and support functions that managers can apply to ensure that marketing and business development are integrated into every person's job, ultimately helping the firm thrive in any economic environment.
"Finally, a book that gets to the heart of the disconnect between marketers and sales professionals! Suzanne Lowe's thoughts will enable leaders to improve significantly the effectiveness of their go-to-market strategies and ultimately lead to happier clients and greater business growth."
Meredith Callanan, Vice President, Corporate Marketing & Communications, T. Rowe Price
"As Suzanne Lowe highlights, the PSF mindset is one of continuous mastery of your profession through talent development, skill development, and an awareness of best practices in your field."
Juli Ann Reynolds, President and CEO, Tom Peters Company
The book's main themes are illuminated with eleven case studies from prestigious professional service firms including IBM Global Services, Perkins+Will, Jones Lang LaSalle, Korn/Ferry International, Moss Adams, Baker Donelson, Holland & Hart, Haley & Aldrich, Randstad, Ross & Baruzzini, and R.W. Beck. Each firm realized advantageous competitive results by initiating one of the Imperatives described in the book.
Despite the maturity of today's knowledge-based economy, marketing and selling "disconnects" prevent service professionals (including consultants, lawyers, accountants, architects, engineers, executive recruiters, IT specialists, HR service agencies, and real estate experts) from competitive effectiveness, impede their financial success, and hinder them from delivering optimal client service. Today's daunting economic environment makes it all the more imperative that they harness their people more effectively - and differently - than they have ever done. The Integration Imperative summarizes three structural and cultural frameworks that provide practical solutions to overcoming their internal functional barriers, allowing firms to expand their market share, increase the "right" kind of revenue, and provide more value to clients.
Corroborating her own co-authored study on marketing effectiveness in professional firms Lowe outlines extensive additional evidence of the marketing and business development "silos" that exist in most professional firms today. The Integration Imperative presents three structural imperatives -- process, skills, and support -- and identifies three cultural paradigms that any service firm can apply to achieve lasting competitive success. Lowe calls for professional firms' executive managers to streamline and broaden their marketing-to-business development processes; reframe their advancement pathways to more clearly outline the steps every professional can take toward competency growth in marketing and business development; and create more formal avenues for function-to-function collaboration, shared accountability and co-leadership for marketing and business development.
Marketing Barriers Assessments
In conjunction with the book, Lowe has created two free, online marketing barriers assessment tests that help highlight what structural and cultural barriers exist at professional firms. These web-based tools offer instant, anonymous results that help firms identify the exact areas to address in building a more productive, integrated marketing and business development engine.
About Suzanne C. Lowe
Suzanne C. Lowe is an analyst, advisor, writer and speaker on the best practices and emerging strategies in professional services marketing and management. Lowe draws upon more than twenty years of marketing experience gained from top-tier management consulting and business services organizations to uncover the structural and cultural processes, skills and support functions that facilitate marketplace effectiveness. Lowe's clients include Analysis Group, Egon Zehnder International, Gilbane Building Company, Houlihan Lokey, Jones Lang LaSalle, L.E.K. Consulting, Noblis, NTD Architecture, and Sibson Consulting. She also facilitates a confidential Roundtable of the Chief Marketing Officers of the world's largest and most prominent professional service firms.
Useful Links
About The Integration Imperative
Professional Service Marketing Assessment Tests
Expertise Marketing LLC
To order a copy for review, email info at professionalservicesbooks dot com
###