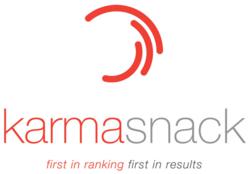 First in Rankings, First in Results
Miami Beach, FL (PRWEB) June 01, 2011
Karma Snack, a leading provider of Internet marketing services is proud to offer free proposals to those who are interested in exposing their websites, products and services to larger online audiences. By completing a simple online request form, companies can take the first step in learning how effective and affordable an online marketing agency can be.
Beginning in 2001, Karma Snack has used its global teams of consultants and cross-industry experts to formulate winning strategies in the online marketplace. Since then the company has completed more than 1200 projects, demonstrating their capacity to put businesses on winning paths to higher profits.
Being a search engine management firm, Karma Snack practices what it preaches. Its name is regularly on the front page of Google search results for marketing services, Miami SEO and internet marketing services. The company can improve search engine placement for practically any keyword and for any business, just as it did for their own marketing company.
Local SEO, the use of internet marketing to develop local businesses, is another specialty of Karma Snack, helping local stores and businesses get more walk-in traffic through proven techniques.
Karma Snack professionals are available all day and night, even on holidays, to review free proposal requests, answer questions and produce accurate proposals for business SEO programs. No time is lost getting started using the new marketing opportunities offered by Karma Snack.
Customers routinely get stellar results from Karma Snack because the company uses experienced teams who know how to leverage the latest web SEO trends to produce solid results.
By offering free consultations on digital marketing, search engine optimization, pay per click management, and reputation management, Karma Snack gives prospective customers a risk free opportunity to interact with their world class marketing company. Once Karma Snack has a chance to earn the business of prospects by demonstrating their search engine management skills, those prospects are likely to become customers. Competitive rates underscore the proposals made by the company, adding yet one more attraction to their business intelligence.
An average team member at the company boats more than 8 years of web SEO and marketing experience. Senior staffers with the company are well-versed with meeting the demands of Fortune 500 companies, and are considered to lead one of the most potent and enduring business SEO firms ever.
One way Karma Snack has the confidence to provide free proposals is because the company knows their business inside and out. They are regular attendees and participants at major Internet marketing trade shows including PubCon, Ad Tech, DMA, Blog World, WordCamp, amaSoFL, and iMedia Connection, which makes them among the first to know what is and is not working in the industry, as well as the latest successful techniques in search engine management.
Karma Snack is proud to showcase some of their most remarkable achievements in an online portfolio displayed on their website. "I called over 50 SEO companies looking for the best quality and more informative ones, and Karma Snack was the one that stood out," said Melissa Hansen of Miami. "They provided high quality advice, tips, and consultation even before I became an official client."
The Karma Snack team is available 24x7 to answer questions, create proposals and provide support, prospects should visit them today to begin a new life of online success.
About Karma Snack:
Karma Snack is recognized as a premier online marketing company that provides business intelligence, search engine optimization and other services in support of customers from every market sector. It is a boutique marketing agency that specializes in online marketing projects. The company does extensive research into target audiences and provides a complete analysis of its clients' SEO requirements.
Interested parties may contact Karma Snack to get a free consultation that includes a proposal for increasing their online profitability.
###