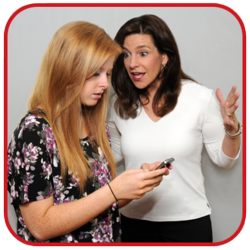 Depending on your kids' ages and personalities, they may balk at being asked to get into the proverbial driver's seat. But be insistent and consistent.
Grayslake, IL (PRWEB) October 23, 2012
Between laptops, smart phones and iPods, America's youth is more connected today than any other generation, according to an article on FoxNews.com. Though experts including marketing strategist Maribeth Kuzmeski, worry they lack the ability to really connect. As the author of the book "The Engaging Child: Raising Children to Speak, Write, and Have Relationship Skills Beyond Technology," Maribeth lists some strategies for getting kids off the computer and into conversation.
"I'm not saying the digital world is the reason why young people struggle to function in the real one," says Kuzmeski. "At least it's not the only one. It's more like a crutch. Because technology is so pervasive, teens use it as a substitute for real conversations. And so they don't hone those critical skills."
Giving parents the tools they'll need to help children develop a strong ability to connect with others is the focus of Kuzmeski's latest book. The author's 17-year-old daughter, Lizzie, wrote the last two chapters that are meant to be read by fellow teens and tweens in order to provide a peer's perspective on the elements of building and maintaining real relationships in a wired and fast-paced world.
To incorporate these learning skills into a family's life to help kids develop naturally and organically, Maribeth suggest the following:
1. Have them place a restaurant order to see firsthand which words and tone gets results.
2. Help them return an item to a store, especially at a busy time to teach her negotiation using what they know for the outcome they want.
3. Ask them to set up an appointment to improve time management skills and phone conversation etiquette.
4. Help them to decline invitations and to do so without softening the blow with a lie.
5. Equip them to converse with a stranger by brainstorming icebreakers and talking points to get them through any conversation without awkwardness that may discourage them from taking the initiative in the future.
6. Make them do their own fundraising to improve persuasion skills as well as confidence, assertiveness and general conversation skill building.
"Regardless of your child's age, making these connections might not be easy at first," Kuzmeski adds. "Depending on your kids' ages and personalities, they may balk at being asked to get into the proverbial driver's seat. But be insistent and consistent. Your children's comfort levels will increase, and especially as they begin to experience positive connecting outcomes, they'll become more and more proactive."
Maribeth Kuzmeski, MBA, CSP, is the author of 7 books including The Connectors (John Wiley & Sons), and The Engaging Child (on cultivating face-to-face skills for our Tech-kids). She is an international keynote speaker and a regular media contributor. Maribeth has her own foundation supporting youth leadership and education, The Red Zone Leadership Foundation, and is President of Red Zone Marketing, Inc.