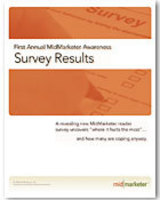 Most wouldn't trade the satisfaction of making a real impact on marketing results for anything, which being a MidMarketer affords.
Chicago, IL (PRWEB) July 30, 2008
MidMarketer.com has now made public the results from its first annual MidMarketer Awareness Survey, conducted in June. Survey results reflect the opinions of nearly 150 marketing professionals.
The purpose of this marketing survey was to query marketing professionals of mid-sized organizations on a wide variety of everyday marketing topics--in effort to gauge operational strengths, marketing challenges, marketing priorities and processes, marketing outsourcing trends, and more.
The survey results are available at Midmarketer.com for free.
In general, top line results point to only moderate surprises. For example, most respondents predictably characterized their marketing work environment as understaffed, overworked, and underbudgeted. But, despite the availability of qualified outside resources, most marketers expressed reluctance to depend more on out-of-house support, most likely due to budgetary constraints.
One key attribute of the MidMarketer persona appears to be thriving on the "line of fire" mentality inherent within the community. Toward that end, consensus was achieved in describing what people liked best about the job. "Most wouldn't trade the satisfaction of making a real impact on marketing results for anything, which being a MidMarketer affords." said Dan Swartz, Executive Editor of Midmarketer.com. "They're a different breed, driven by different motivations," Swartz added.
Among other survey highlights:
-Time is scarce. Most mid-marketers don't even have the time to learn about other marketing options, nor have the budgets to hire outside help.
-Search engine marketing and email marketing were two common challenges.
Still, most would rather educate themselves in them than obtain outside help, or
do nothing at all.
-Little or no consensus exists for what defines an essential marketing component.
This is in stark contrast to bigger companies with bigger marketing budgets.
-Managing a heavy work load was chosen as the most challenging aspect of the job.
-Budget permitting, common priorities for next year include improving upon current programs in place, expanding their marketing arsenal, and updating web sites.
The 2008 MidMarketer awareness survey results can be downloaded for free at http://www.midmarketer.com
About MidMarketer:
MidMarketer.com provides exclusive content developed from industry experts who are passionate about responding to the unique marketing needs of mid-sized organizations. It offers marketing professionals from mid-sized organizations a wide range of practical tools, including twice-monthly Perspective reports shedding insight on a wide variety of timely strategic, creative and tactical topics. Regularly updated, members can also access certified resources that are handpicked for mid-sized organizations, as well as events focused on topics specifically for them.
###