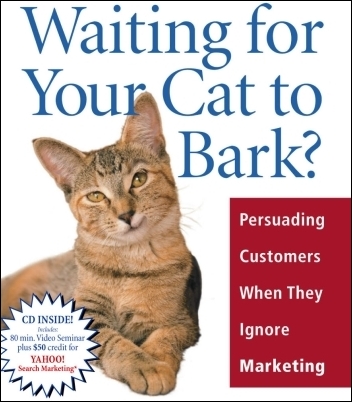 If a customer feels he isn't making progress, then he isn't persuaded.
Nashville, TN (PRWEB) July 13, 2006
Bryan and Jeff Eisenberg, brothers, inventors of Persuasion Architecture and authors of last year's New York Times and Wall Street Journal best-selling business guide, "Call to Action," have popularized a new term. This new term defines the decision making process that aligns a customer's goals with the goals of business. This term, "persuasive momentum," is a key component in understanding their revolutionary approach to marketing as illustrated in their new New York Times and Wall Street Journal bestseller "Waiting for Your Cat to Bark?"
The authors write, "When we understand and anticipate what answers or points of resolution a customer may require at every step in the decision making process, we can help them make the decisions that matter to them. These are, after all, the decisions that matter to us and move us closer to our business goals."
This new approach to marketing involves building and maintaining persuasive momentum by intentionally and repeatedly providing answers to three fundamental questions:
1. Who are we trying to persuade to take action?
2. What is the action we want someone to take?
3. What does that person need in order to feel confident taking that action?
The Eisenbergs explain that these three questions align the buying experience of the customer with the sales process of business. The Eisenbergs describe these questions as "the foundational building blocks of Persuasion Architecture."
It is through Persuasion Architecture that businesses can anticipate the demands of the customer in order to better suit that customer's personal needs. The Eisenbergs emphasize the need for the customer to feel they are getting what they want. Put simply, "If a customer feels he isn't making progress, then he isn't persuaded." Persuasive momentum can be used as a way to think about building logically-based persuasive entities for Persuasion Architecture.
Principals of Future Now, Inc., Bryan and Jeffrey Eisenberg help companies maximize results by incorporating expert persuasion techniques into website design as well as email marketing, development, and implementation. Co-authors of the New York Times and Wall Street Journal bestseller "Call to Action: Secret Formulas to Improve Online Results," the Eisenbergs developed the patent-pending Persuasion Architecture marketing framework at the heart of "Waiting for Your Cat to Bark?"
Contact:
Michael Drew
512-858-0040
# # #