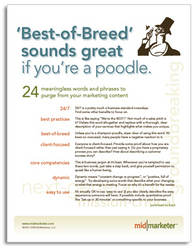 The De-Crapifier is a fun way to put your marketing content to the B.S. test
Chicago, IL (PRWEB) January 31, 2008
While companies keep packing their marketing content full of promises to "add value" and deliver "innovative solutions," online marketing resource MidMarketer is taking a stand with their straightforward "Content De-Crapifier."
The aptly named interactive tool immediately identifies stale and overused marketing buzzwords and provides suggestions for improvement. Fun, yet practical, the De-Crapifier helps marketers sharpen the messages they put out to customers and prospects.
"The De-Crapifier is a fun way to put your marketing content to the B.S. test," says Dan Swartz, President of MidMarketer, the only online resource dedicated solely to the marketing efforts of mid-sized companies.
"Marketing people get a kick out of using the tool, but they also asked for a printable reminder of words to avoid. We've created a downloadable tip sheet that lists some of the most commonly overused buzzwords and phrases, which is quite humorous but also very useful." The tip sheet is called 'Best-of-Breed' Sounds Great if You're a Poodle: 24 Meaningless Words and Phrases to Purge from Your Marketing Content.
For help with identifying some of the most common buzzwords and offering suggestions for improvement, MidMarketer turned to Pete Savage, a professional copywriter and content specialist. Savage has focused his career on writing marketing content for business-to-business companies.
"Marketers often struggle to find the right words to describe what they do, and why anyone should care," says Savage. "These tools are an easy way to identify those words that weaken your marketing communications, and stamp them out," he says.
Pete Savage has earned MidMarketer's Certified Resource status. MidMarketer engages potential marketing resources in a certification process and only certifies certain marketing products or service organizations that demonstrate a tailored offering to mid-sized organizations.
Other MidMarketer Certified Resources include Emma for email marketing; Unica Corporation (Nasdaq: UNCA) for cross channel campaign management; Engine Ready for search marketing, Interact Direct for database marketing and VigilanteWeb for web development. Swartz noted that more Certified Resources are continually being researched and added.
The Content De-Crapifier and the tip sheet 'Best-of-Breed' Sounds Great if You're a Poodle: 24 Meaningless Words and Phrases to Purge from Your Marketing Content" can be found here: http://www.midmarketer.com/tools/content-de-crapifier/
About MidMarketer
MidMarketer is the only online resource dedicated to helping marketers gain knowledge and insight on how to successfully market and manage their mid-sized organizations in an increasingly competitive world.
About Pete Savage, B2B Copywriter
Pete Savage is a freelance copywriter who writes e-newsletters, case studies, direct marketing campaigns and more for businesses who want to drive growth with smart marketing campaigns. Free resources for B2B marketers are available at http://www.petesavage.com. Contact Pete at pete@petesavage.com.
Media Contact:
Dan Swartz
866-559-7637
# # #