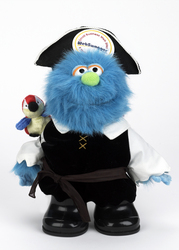 A small business' first instinct is to cut spending when the market slows
Wyckoff, NJ (PRWEB) December 10, 2008
WebSwagger.com has recruited its pirate mascot to help get the word out to small businesses about the importance of marketing. The new Internet video campaign promotes educational marketing themes.
The videos follow the adventures of WebSwagger Pirate and Parrot sidekick as they sail the waters of small business to assist those in distress. WebSwagger Pirate provides light-hearted education on the various aspects of marketing a small business.
Especially important to small businesses in this economic downturn, is maintaining marketing activities. "A small business' first instinct is to cut spending when the market slows," says Marlene Bauer Pissott, Founder and President of InGroup, Inc. and WebSwagger.com. "Where they make a mistake is cutting their marketing budget altogether. Now is actually the time to keep alive with more of a strategic focus."
WebSwagger Pirate is not looking to take anything from these businesses. Rather, his treasure lies in steering small business owners in the right direction to help grow their businesses. Some of the issues he comes across are businesses with no marketing at all, inconsistent branding, or those not having a Web presence.
"WebSwagger Pirate is on a mission to educate small business owners on how important marketing is to maintaining and growing their enterprises, even in a weak economy," said Pissott. "These videos teach entrepreneurs how they can help themselves cost-efficiently. Businesses need to know how they can access the Web and emerging media as a fresh way to engage their audiences."
The first video in the series can be viewed on YouTube.com at http://www.youtube.com/watch?v=7L5nQc7YhDI or on the company's Web site http://www.WebSwagger.com/pirate_webswagger.html .
Serving the needs of small businesses and professional service firms around the nation, WebSwagger.com offers unique, professional and affordable Web sites and co-branded print marketing materials.
WebSwagger.com is managed by InGroup Inc. - full-service creative agency, in Bergen County, N.J., providing innovative marketing and communications services since 1995. For more information visit http://www.WebSwagger.com or call, (888) 772-6400.
###